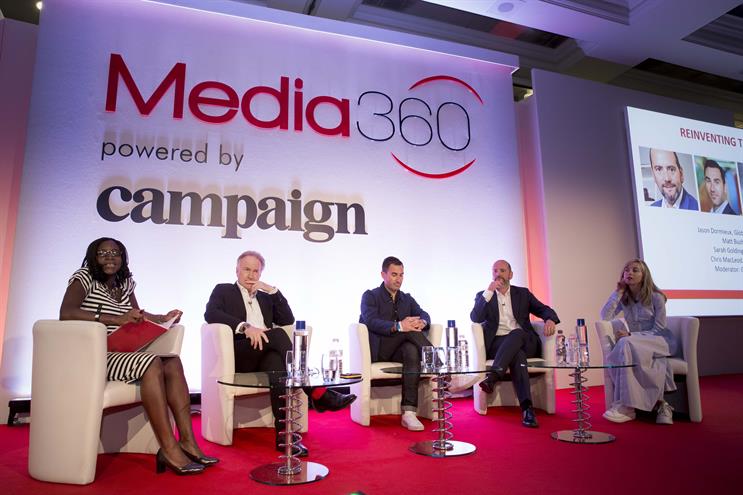 Any business that is not primed to reinvent itself on a constant basis is doomed, Matt Bush, Google, director of UK agency sales, said. "This applies to all businesses, not just agencies."
In fact, if agencies didn't have to reinvent themselves it would be a surprise, agreed Jason Dormieux, UK chairman and chief transformation officer, Wavemaker. "Ultimately, we do need to reinvent ourselves."
But what that change should be is where panellists disagreed. Chris Macleod, customer director at Transport for London believes that surface change won't save agencies.
"It's a meteor-meets-dinosaur moment for agencies. Some things are going to break. It's not like all agencies are equally creative and effective – some are really bad. And there will always be someone who will do it cheaper which will undermine the movement for change. Everyone is in everyone else's back garden putting their hands up saying, 'I can do that!'," Macleod told panel moderator, Gemma Charles, deputy editor of Campaign.
It does become a problem when price becomes an agency's only differentiator, Bush said. "But you can't always blame the agency, some clients don't understand the value they can get. Smaller agencies are perhaps better at this – there's a price point below which they will not go because they don't feel they can do the work well. There's something in that about bringing quality to the fore so clients view it as something that adds value and rather than cost."
Sarah Golding, chief executive and partner of The & Partnership London, agreed that the old agency model isn't set up to answer the problems and questions clients face today. "Clients are asking questions such as 'how do I better use data to transform my business?' and 'how do I prove that I hit this month's targets efficiently and effectively?'," she said adding that her agency had changed to put data and technology at the heart of its business.
The advertising industry, she continued, should also stop "slagging off" itself and stand up for what it can achieve – transformative change.
But Macleod questioned this: "What product is that? Most businesses are looking for incremental change day to day. They can't be asking for transformative change every day. Transformative challenges do come along once in awhile, but much of the market is incremental."
One way of addressing the gap between client demands and agency capabilities, that was offered during the discussion, is to work more closely together. Both The & Partnership and Wavemaker have been basing their talent at client offices on an increasing basis.
"We find our talent love this because they can really see how the client works," Jason Dormieux, UK chairman and chief transformation officer, Wavemaker, said. "But we make sure we bring them in to so they get the best of both worlds."
But this way of working is hardly innovative, pointed out Macleod. "Even us old boring tube train people do it," he said, dryly. "Is that innovative then? Crikey!"
It could also be problematic, Bush said, that agencies have pitch processes that take too much time and are also too frequent.
"Perhaps, but what's the alternative?" Macleod said. "Architects have pitches, and they're often more expensive than agencies, but they're not complaining."
"But when you're an architect, you win a pitch and you build the building," Bush countered. "You don't have to re-pitch after you've built the foundations."
But whatever the problems, agencies will be able to face them, agreed panellists.
"If you don't go in positive, you don't come out positive," Macleod conceded.