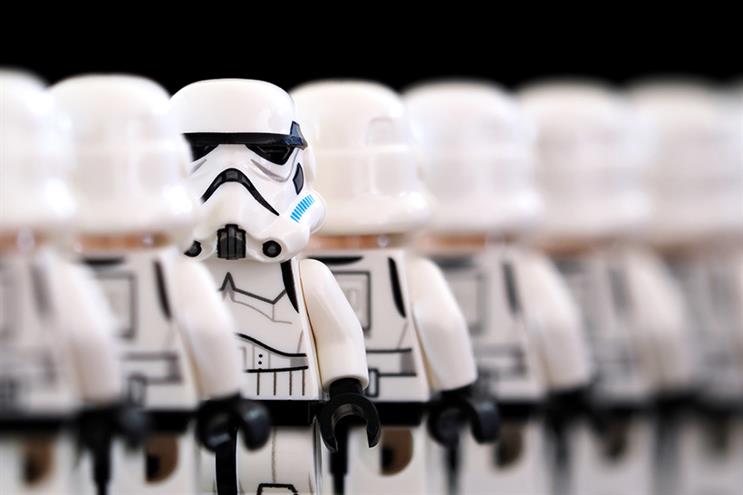 Richard Exon, founder, Joint 
So far, 2020 has been both a harsh test and powerful lesson in how to manage talent better.
Many of the challenging trends in our market have been accelerated by the impact of Covid-19. Things like project fees vs retainers, downward pressure on prices and more competition in pitches.
As leaders, we need to take the opportunity to accelerate some of the positive trends too.
So let's refine our recruitment plans so we drive as much diversity, inclusivity, flexible working and empathy into our businesses as possible. After all, we know all these things drive commercial success.
As with so much else in business, this will require a blended approach and will most likely require every business to invest more time money and effort in recruitment than in any previous year.
Recruitment agencies will be key here and we can already see them innovating and offering more strategic support than ever.
This move upstream exactly mirrors what all creative businesses since the dawn of time have wanted to achieve with their client relationships and it should be welcomed. Especially as in a buyer's market of any kind it takes more time, money and effort to arrive at the right decision.
That may sound counterintuitive when there is so much choice, but unless you go the extra mile to understand all your options you may well miss out.
Alongside recruitment agencies, there are fantastic programs and initiatives like WACL's Flexible First with its Toolkit, Checklist and Mark that we can all use.
If nothing else, this wretched pandemic has underscored what we all knew - that nothing is more valuable that our people.
Or as we put it at Joint, 'We don't have a business plan, we have a culture plan'.
If we want to take advantage of the opportunities we all hope 2021 will offer, we will need a deep commitment to smarter recruitment. That's how we can build back not just better, but also faster.
Hanisha Kotecha, chief client officer, Creature 
It's interesting to think of this as a buyer's market in the first place. 
There are large numbers of hugely talented people who have suddenly found themselves out of work through this pandemic – literally at all rungs of the agency ladder. Some of those talented people will look back on this year and say this was the best thing that ever happened to them. They probably should have left their jobs ages ago and this was just the kick they needed to start their own thing, change their career or put their skills to something more purposeful. 
Then there are those, green-ribbon-wearing-open-to-work folk who are determined to be visible on Linkedin and twitter, sharing, liking and commenting building their personal brands. I guess I was one of them (in disguise) until a brilliant head-hunter, after a whole year, found the one agency that met my very tight criteria, landing me here at Creature. 
If they'd stuck to old hiring practices, we'd never have found each other. I'm not in their 'network' and they'd definitely never heard of me. 
To that point alone, I think recruitment agencies and head-hunters are more vital than ever, with two strong caveats. They need to truly provide access for diverse candidates if we are to fulfil the promise of better representation at all levels and they need to fully understand an agency's culture (good or bad) to match-make more carefully than they ever have before. 
To hold on to the talent we work hard to find, we should always see this as a seller's market because we're only as good as the people we hire. 
PS It's always worth making a fuss of new people, if anything – it will simply make them like you more.
Paul Houlding, managing partner, isobel
There are, unfortunately, so many more people out of work. Finding the right talent is a numbers game and there is a ridiculous number of chancers and weirdos who apply but there are always good candidates as well. 
This year we have seen a much better quality of applications from serious candidates and it has made our job so much easier to sort the brilliant from the average. Really good talent just rises to the top. 
Anybody that knows isobel knows that we have a very strong culture. And we won't compromise on culture when hiring. Which means that the real decision-making process comes down to interviewing people. We have always taken our time over this part but it is crucial.
I don't think the events of 2020 have necessarily changed the way that we recruit for isobel.
Having more people on the job market makes the process more time consuming but fundamentally we are still looking for the same type of people and going about it in the same way.
Interestingly interviewing online really works for us. It's one-on-one, intimate and concentrates the mind on the person's character. Is it a substitute for in person interviewing? Probably not but it could be something we continue to do as a vetting stage.
So, how do we get the right candidates into the funnel? 
We use social media like everybody else. We issue a short brief and then wait for that great talent to surface.
We also use recruitment consultants and we probably always will but we are very select about who we use. The closer we work with a consultant the better so they can get to know us and our culture in depth. A good consultant can be invaluable but the challenge for them is pricing. 
In a day when social media allows agencies direct, cheap access to candidates consultants can appear supremely expensive. 
Claire Owen, founder, Stopgap
It's true that some super talented people have found themselves unexpectedly on the job market as a result of Covid-19 but at the same time, some very good people who might in 'normal' times have considered a move, are staying put till there's more certainty in the market.
The potential talent pool today is different to the past – that's not to say it's worse, it's just different. Now, more than ever, agencies need to open their minds as to what right looks like – certainly in terms of previous skills and experience. Sadly, the CV for many people is what stops them from getting their foot in the door.
Defining the talent criteria beyond the obvious five-plus years' experience and basic skillsets is where the partnership with the recruiter is key. A trusted advisor that gets culture, understands the make-up of the existing team, competence and character sets everyone up for success. And it's the recruiter who deciphers CVs and identifys key transferable skills.
In agencies, culture is king; you need to talk and meet people – this is where a good recruiter adds value. We spend days talking to candidates. When a client needs new talent, we often already know people who'd be great. This is exactly what happened when we recently placed an ECD into an in-house role: she wasn't found through a job ad or search – we just knew her.
The DIY recruitment route sometimes works: job boards, your website and of course – the answer to all prayers – LinkedIn! This can save a recruitment fee. But this takes up time wading though an abundance of applicants, doesn't deliver the right talent and doesn't necessarily help in diversity and inclusivity: there is great talent out there beyond the network of the agency.
Partnering with experienced recruiters, with strong values, who are committed to the long-term success of your agency saves time in the short term and money in the long term by getting the right top talent for your company.
For help and guidance with digital and agency recruitment,speak to Stopgap >>>