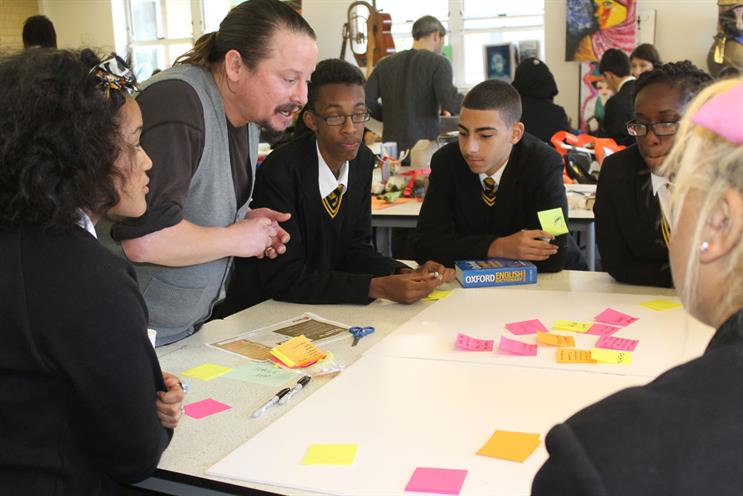 On the 10th October, along with hundreds of other agency professionals ranging from CEOs, Creative Directors and Chief Technology Officers to new recruits, I took a break from client work and headed back to school for BIMA D-Day. Greeted by over 4,000 students across 100 secondary schools and colleges, the agency mentors and I spent a whole day inspiring school-age children to embrace the potential of a career in digital.
An O2-commissioned report released earlier this year indicated that Britain needs to create and fill 750,000 new digital jobs to keep pace with the global digital economy, with over 200,000 of these jobs ideally suited to the new generation of computer-savvy school children.
The digital landscape in the UK is one of opportunity with an industry seen as world-class and growing. But scratch beneath the surface and you find a sector struggling to recruit due to a lack of available talent.
BIMA (the British Interactive Media Association) wanted to create something really tangible to help us address this digital skills gap.
That's why we launched BIMA Digital Day (or D-Day for short): an initiative to introduce school-age children to the possibility of embarking on a career in digital.
To get children "doing digital", we put together a collection of challenges, each focused around a different discipline namely; digital design, mobile, social media, video and coding.
The challenges add a competitive edge which the schools like. With students only having a few hours to tackle the task, it's important that the key deliverable is the idea and that we get the young people to convey that idea clearly in the entries.
As well as the challenge work, the agency mentors also give the students a presentation offering insights into agency life, the work they do and their own career background. This year, many coped well with personal questions around their pay and ability to turn up to work a little later after a heavy night!
This year we also ran a very successful hub, with several schools coming to Kingston University, which has paved the way for more centralised D-Daying in future
The very best projects created on D-Day get submitted to a specially- created award panel, with the winner in each category carrying off a BIMA D-Day Award and one overall winner carrying off the Grand Prix.
The event is truly nationwide, with BIMA D-Day 2013 supported by 100 leading agencies from across the UK including DigitasLBi, SapientNitro, Redweb, Weapon7, Amaze and McCann Manchester.
Jim Bowes of London digital agency Manifesto was a professional who supported BIMA D-Day this year, visiting Alyward School in Edmonton, North London. He recalls his day:
"Not really knowing what to expect, and fearing that the students would quickly get bored by seven blokes from a digital agency, we decided to eschew talking about ourselves for too long, preferring instead to get stuck right into the challenges. We also added a few extras to the format set by BIMA. We gave the students the chance to make their own pitch videos and radio commercials - a flavour of the variety and breadth of work that digital agencies find themselves involved with.
We were blown away by the response. The energy and creativity in the room was of a magnitude that we rarely experience our everyday, grown-up, professional life."
Jamie Griffiths, Strategist at Manifesto, found it hard to keep up:
"Brainstorming with young people is amazing. The ideas just keep coming thick and fast. It was a struggle to get them all down on paper."
Manifesto Java Developer David Thompson was also impressed:
"I found the day truly inspiring and also lots of fun! There is so much talent and fresh concepts in young people. They don't focus on the limitations they might encounter, only on the ideas they want to achieve. If BIMA D-Day made at least one of them think about further developing those ideas and make them realize it is possible it was totally worth it."
Manifesto's experience is not unique. Twitter was ablaze with agency people complimenting the great natural talent in our schools.
Our young people are digital natives and not fazed by the idea of originating innovative digital solutions. We just need to give them the opportunity to explore and demonstrate how naturally gifted they all are when working in the medium.
The success of the day demonstrates that we don't necessarily have a talent gap but an awareness gap. Young people don't know about digital careers and the current system is not aligning career planning with the jobs the country is creating.
Whilst D-Day is only 1 day a year, it is potentially the only exposure that schools get to an industry that is so relevant to our future Britain. It is vital that barriers are reduced and the breadth of digital careers for both girls and boys are communicated.
Everyone is proud of how the UK digital industry has achieved major stature both in terms of talent and the contribution that it makes to the UK balance sheet. But we can't afford to be complacent. With the Government identifying digital as a key growth area, agency professionals need to work together to ensure that the next generation is primed for the opportunities ahead.