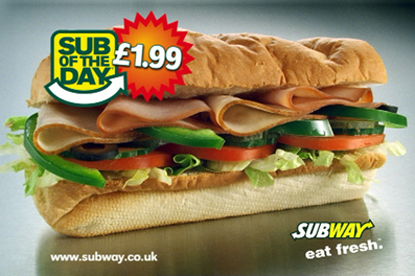 An RFI was sent to agency groups and integrated agencies on Tuesday. The account will involve a mixture of national television and press campaigns plus regional campaigns and in-store activity.

Subway is understood to be considering a change to its advertising strategy.

The successful agency will review its advertising message, examine its competitors and look at how to increase footfall through the door.

The incumbent, the Glasgow-based agency Frame, will repitch for the business. It has handled the account since 2005.

Frame won the regional business (for the Yorkshire and Granada regions) in July 2005, and was appointed to the national account in September of the same year.

The Subway franchises currently pay a percentage of their turnover into a communications fund, which is split on a regional and national basis. Separate regional and national boards then decide how to spend the funds.

Keith Bolton, the managing director of Frame, which developed the "Sub of the day" concept in 2006, said: "We are on board with them all the way, we love Subway. It's an account we've grown up with."

Alex Cacouris, Subway's head of marketing, said: "Subway has enjoyed phenomenal growth, particularly over the past three years.

"It's now time to review our broadcast communication as we enter the next exciting stage of development in the UK and Ireland."