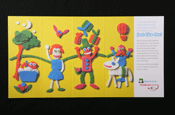 The company is in early discussions with several agencies and plans to hold credentials meetings in the next two weeks. First Direct's head of direct marketing, Colette Nugent, is handling the process.
The review covers both the acquisition and retention direct marketing accounts.
The news will come as a blow to the WPP-owned incumbent Craik Jones Watson Mitchell Voelkel, which has handled the acquisition business since 1991.
A roster of local agencies including the Edinburgh-based Story, currently handles the bank's retention marketing.
Craik Jones is expected to defend the account, for which it has produced award-winning work, including the Fuzzy Felt campaign that scooped last year's Campaign Direct Grand Prix.
First Direct is the third of Craik Jones' flagship accounts to call a pitch this year. Orange and Land Rover both completed reviews by moving their business into Wunderman.
The review follows Nugent's appointment as head of direct marketing in May. She replaced Liz Carruthers, who left to join the data management agency Lateral Group earlier in the year.
In October, First Direct launched its first TV advertising campaign since it invested £7 million in a rebrand. The ads, created by JWT, and any subsequent marketing, will drop all reference to its parent company HSBC.
First Direct is one of the UK's top 40 spenders on direct mail, with around 85 per cent of its marketing budget spent on below-the-line campaigns.