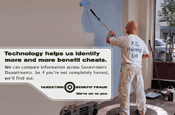 The DWP has invited COI communications planning roster agencies to pitch for the business as it steps up its battle against benefits cheats. It is understood to be seeing credentials from agencies this week ahead of pitches. MindShare has previously worked on a one-off basis on benefit fraud campaigns.
Media buying on the benefit fraud business will continue to be handled by the existing COI roster buying agencies, while Cheethambell JWT's position as the creative agency is also unaffected.
Last year, the DWP appointed Carat to handle communications planning on its "now let's talk money" campaign, which offered financial advice to people on low incomes.
The review follows an announcement this month from the DWP that it plans to step up its battle against fraud by using information held by credit reference agencies to pinpoint people who live together but claim to be single for benefit reasons.
The DWP claims that levels of benefit fraud have fallen from £2 billion in 2000 to £800 million.