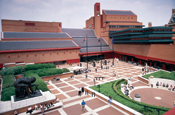 Pitches are taking place this week with a decision expected before the end of the year.

The winning agency will initially be briefed to design and build a commercial website for the library's online catalogue of illuminated manuscripts (OCIM).

Once the site is running, the agency will also be briefed with creating online campaigns to drive traffic.

The OCIM is a searchable database and holds some of the richest collections of medieval and renaissance manuscripts in the world.

The site will aim to provide access to images and information about its manuscripts to students, scholars and the public.

In June 2009, more than 2,000 further manuscripts and images will be added to the site from the library's Harley collection following a grant from the Getty Foundation.

The library hopes the catalogue will grow to include around 9,500 manuscripts.