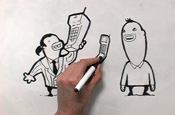 The mobile phone retailer is approaching agencies directly with a request for information, in a process that is understood to be procurement-driven.

Its direct marketing is currently split between WDMP and Kitcatt Nohr Alexander Shaw. It is not known if either agency will repitch.

WDMP picked up the main DM account in 2005 from Clark McKay & Walpole, following The Carphone Warehouse's decision to consolidate the account with its TalkTalk division.

In October 2007, The Carphone Warehouse appointed Kitcatt Nohr to work across its broadband and telephone services on a project basis.

The brand's advertising is handled by CHI & Partners. The agency recently launched an integrated campaign to promote the fact that its client now offers connectivity via a broad range of technology, not just mobile phones.

The Carphone Warehouse this week completed a major restructure of its marketing department following the part-acquisition of its retail business by the US consumer electronics giants Best Buy.

It is understood that the company is using the new structure as an opportunity to review its DM arrangements.