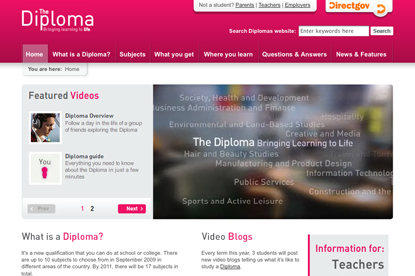 A shortlist of four agencies is expected to be announced soon, with pitches to follow shortly afterwards.

The pitch is being handled by COI.

Aimed at 14- to 19-year-olds, the diploma is a new qualification that combines academic and practical work-based learning and has been heralded as a replacement for GCSEs and A-Levels.

It was launched in some areas of the country in September last year and nationwide this week.

The winning agency will be briefed to create a television and press campaign, set to launch in January and designed to educate parents and energise youngsters about the diploma and what it offers.

It was introduced to redress issues of young people being qualified on paper but leaving school ill-equipped for either the world of work or higher education.