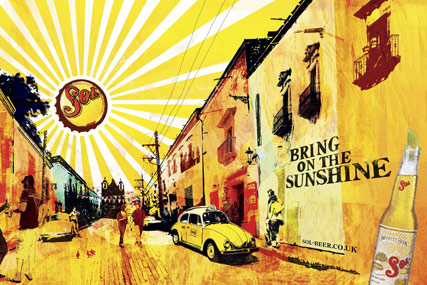 The brand is reviewing the business through the intermediary Creative Brief as it looks to established a new global positioning.
Several network-owned agencies are thought to have been approached about pitching for the account.
The review comes as Heineken looks to shift its focus in 2011 onto several of its key brands. It has said that it will focus on the international rollout of high margin brands including Sol, Strongbow cider and Dos Equis beer.
UK advertising for Sol has previously been handled by various agencies including The Leith Agency, which was on the roster of its previous UK distributor Molson Coors.
Sol's last significant advertising drive in the UK was launched in 2005. Created by cdp-travissully, the poster campaign took inspiration from the brand's name and attempted to convey the feeling of being in the sunshine as part of Sol's wider "Love Summer" promotion.
Heineken has owned the brand since its acquired the Mexican brewer FEMSA, which also owned Dos Equis, in 2010. This week Heineken revealed a 19.7 per cent rise in profit to €1.4bn (£1.2 billion). However, total volume sales declined 1.7 per cent over the year as consumers in European markets decreased their spending.