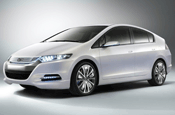 A number of agencies have been approached and a brief has been sent out to tender.

The review is being handled by Chris Brown, the marketing manager at Honda, from the company's European headquarters in Reading.

Wieden & Kennedy handles all of Honda's brand work and created the "impossible is nothing" line. It is unknown if the agency has been asked to repitch.

It is thought that Honda is talking to agencies in a bid to ensure the launch work is fresh and innovative.

The new Honda Insight is due to go on sale in spring 2009 and a concept version of the hybrid car was displayed at the Paris Motor Show in September.

Described as "an affordable family hybrid" car, the Insight will be a direct competitor to Toyota's hybrid car, the Prius.

Wieden & Kennedy was appointed to the Honda account in 2002 and, since then, has created a number of high-profile and award-winning campaigns, including "cog" and "grrr".

The recent live skydiving ad, created in partnership with Channel 4, saw skydivers spell out Honda in the sky.

The agency has also created a number of marque-specific campaigns, including an animated spot for the Honda Civic that broke last month.