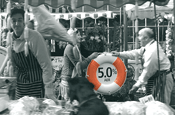 It's thought that the Dutch financial company is keen to raise its profile in the UK, with the intention of matching the status it holds across main-land Europe.

The pitch, which is being run through the AAR, comes five years after the incumbent agency, Targetbase Claydon Heeley (then Claydon Heeley Jones Mason), was awarded the account.

The agency will repitch for the business.

The direct marketing review follows a number of changes to the bank's advertising roster.

It called a pitch for its media account in June 2006, appointing PHD to the business.

At the beginning of this year, ING Direct moved its advertising account out of VCCP and into Beattie McGuinness Bungay.

Over the five years that the account has been with Claydon Heeley, the agency has produced a number of campaigns, including a push to promote the bank's support of the Royal Horticultural Society, and a campaign that publicised the company's multimillion-pound sponsorship of the Renault Formula One team.

Claydon Heeley rebranded as Targetbase Claydon Heeley in July after it merged with its Omnicom sister shop, the US data specialist Targetbase, in March.