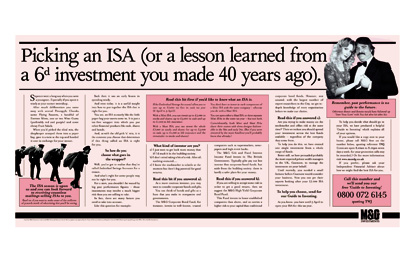 The process is thought to be in the early stages and agencies are being contacted directly by the client.

The brief includes advertising, digital and direct marketing. Among Joshua's most recent work was an integrated campaign to commemorate 40 years of the M&G Recovery Fund.

Joshua was hired by M&G's marketing director, Jacqui Haskins, in 2006 after a shoot-out against Kitcatt Nohr Alexander Shaw.

The business was previously with Harrison Troughton Wunderman, which held the account for five years.

In this time, it created a series of cross-track long copy poster ads which won two silvers at the 2003 Campaign Direct Awards and three golds at the 2002 DMA Awards.