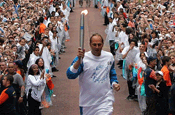 The pitch is being handled by Charles Allen, the chairman of the Nations and Regions Group, a collection of representatives from UK business and sporting networks that was set up to guarantee that the entire nation benefits from the Olympics.

Described as "much more than an advertising brief", the work will be separate from the main advertising planned for the Olympics, will not feature the 2012 logo and will be based on the legacy of the Games.

The successful agency will create a strategy for communicating the long-term positive impact at grass-roots level and will aim to ensure that communities affected by the Games do not see it as a one-off spectacle, but feel included in both the build-up and the after-effects.

The work will include briefs from improving community centres to producing national ad campaigns to boost consumers' knowledge of healthy eating and exercise.

As well as building on any positive press the Games generates, it will also involve countering any bad press that emerges, such as the ever-inflating costs.