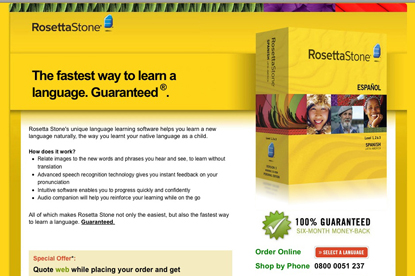 The company has contacted agencies directly and is currently finalising a shortlist. There is no incumbent on the account.
Rosetta Stone's first project will only involve TV work, but the appointed agency will go on to handle the full integrated advertising account.
In the US, the company works with Turbine/VGS Creative. One of its latest ads, launched last August, features the Olympic gold medallist swimmer Michael Phelps.
In the TV spot, Phelps talks about how he is obsessed with speed, as he signs autographs with his toes, times his dog going to the toilet, and chops vegetables at speed.
He plugs Rosetta Stone by saying he wanted to learn Chinese when he was training for Beijing. It ends with the voiceover: "When it comes to learning a new language, speed is everything."