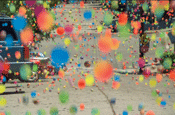 The company has held talks with several undisclosed below-the-line shops, although a formal pitch has yet to begin.
Mikah Martin-Cruz, Sony's general manager of central marketing UK, is handling the process. There is no incumbent DM agency on the UK account.
The successful agency will be briefed to produce retail-driven campaigns focused on promoting the company's electrical products to the UK market.
Sony currently uses WWAV Rapp Collins to handle its pan-European below-the-line communications across a range of products, including home audio equipment and computers.
The agency strengthened its position on the pan-European business in July last year, securing the £5 million below-the-line account for Sony's Handycam products.
It is understood that WWAV's relationship with Sony is not affected by the review.