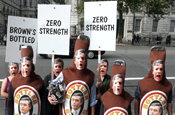 The party has contacted agencies with a brief to build public support and help raise money. The review is being handled by the AAR.

The Tories are thought to be looking for an agency that has fundraising expertise and experience of working in the political sector.

Political parties have identified DM as an effective way to build support and raise funds.

In the lead-up to the 2005 general election, the Electoral Commission stated that the three main political parties dramatically increased their spending on DM, improving turnout by 2 per cent.

Of the £17.8 million the Tories spent in the run-up to that election, £4.4 million was spent on DM - an increase of 269 per cent on the sum spent on DM for the 2001 election.

In October last year, the party appointed Euro RSCG to handle its advertising.

Euro set up a subsidiary, Euro Referendum, to service the business and created the "Bottler Brown" campaign and a press ad that ran last year on the day that had been mooted for a general election.