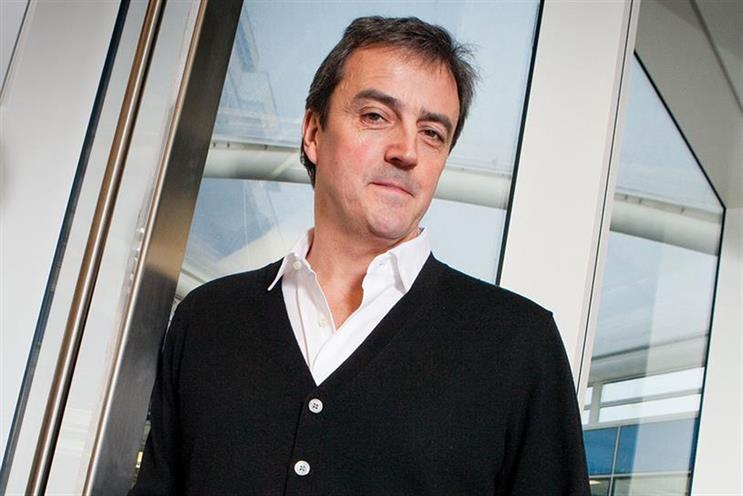 "I'd been thinking about it for a couple of years but decided to do it when I realised that Cheil wasn't going to be what I thought it was going to be," he says mysteriously.
Hammersley had been at Cheil for just one year, joining after spending slightly longer as group CEO of EDC Communications – the former parent company of Dare and Elvis. Curiously, his stint at the Korean agency is a notable omission on his LinkedIn CV, which also lists his other lofty positions as partner at The Red Brick Road, CEO and chairman of DDB London and CEO of Lowe New York.
His new organisation is somewhat smaller in scale than some of the previous agencies he ran. It comprises a ragbag of ten smallish independent agencies, the most well known of which are probably Goodstuff Communications, Dare (one of its most recent joiners) and Oliver, which work across a variety of disciplines, and includes two other members of staff. Its launch in June could quite easily have been missed amid Cannes and its associated wake.
The rationale for its creation seems sound enough – large network agencies are struggling to get to grips with the issue of integration (you only have to look at WPP), while media attribution scandals have led some – such as the ANA – to suspect that there might have been an element of complicity at the expense of advertisers. "The corporate side of our business hasn't done anyone any favours – particularly from the holding companies," says Hammersley. Harbour, he suggests, will be the antithesis of this.
So what does it offer to advertisers? In theory, access to a network of specialist marketing services agencies, which are committed to retaining their independence and whose skills complement each other. Its members, on the other hand, are able to benefit from referrals, pitch together and use Harbour to handle centralised back office functions such as HR, IT and insurance, thereby cutting out cost. Although, again – this is still theoretical.
Hammersley also promises to champion them among trade bodies, intermediaries and to third parties – although one independent agency founder doesn't think that would be that beneficial. "I don't need any third party to demonstrate the benefits of why we are different and interesting. If an agency can't do that itself and needs someone to do it on its behalf, it suggests it's got bigger problems," he says.
Hammersley is unable, or unwilling, to name how many or which agencies have signed up for Harbour to do its back office support – although in fairness it has only just held the first of its monthly management meetings, made up of members of the collective. Given that online applications are now able to manage things such as payroll, this might seem an obsolete offering. Nonetheless, Hammersley points out: "In every commercial sector there are companies that offer to take on the operational stuff."
In short, it seems that Harbour will do whatever you want it to do, all for a membership fee and a referral fee plus a share of cost saving. With such a small team running it, it currently lacks the account handling clout that it would need were it to win a large multidiscipline advertiser.
As a referral unit, people from other agencies who were invited to join also remain sceptical. "It's come from the slightly naïve point of view that there are clear lines of definition on what modern agencies do – that they'll only stick to their speciality. Alongside that I was not convinced – that group is only as good as the worst agency in it," says one, who did not want to be named.
Dan Shute, the CEO of Creature London, which also declined to join, adds: "I'm a strong believer in the power of the independent sector but my nervousness is summed up with one word – egos. People who start an agency have a little bit of 'don't play with others'. I worry about the reality of getting people in one room and asking them to pull together."
Hammersley admits that there are going to be areas of overlap but when it comes to new business referrals, each situation will be looked at individually.
But not all feedback is negative. Nick Hurrell, the managing partner of Harbour member George & Dragon, says that his experience of working as part of it is positive. "When we joined we were optimistic that this was a new opportunity for clients based on the insight that the multinational model is shrinking. We've had a couple of positive new business meetings since then where we've pitched with other members of the collective and that optimism has now turned to confidence."
Harbour has yet to make any discernible waves in the world of new business but, in fairness, is still a work in progress. One senior manager from a member agency points out: "It's not without its challenges and needs quite a bit of time and effort." However, while it might not be suitable for all independent agencies (the issue of clashing capabilities looms large over it and there is only a finite pool in which it can fish), it has found some support and could help some smaller agencies have conversations that would otherwise elude them.
Ultimately, though, this 1928 quote from the author and professor John A Shedd sums up many attitudes to why some agencies have eschewed Hammersley's offering: "A ship in harbour is safe, but that is not what ships are built for."