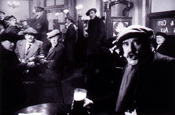 Farm, the incumbent agency on Courage, and Mustoes, the agency for Bombardier, are both understood to have been shortlisted for the projects, with an appointment expected later this month.

The briefs are understood to include a series of tactical projects across several Courage brands, but not the entire account.

The move will still be a blow to Farm, which won the account last year after a pitch against Mustoes and Krow with a brief to relaunch the brand's portfolio of beers, ?but has since struggled to get work approved.

Wells & Young's acquired the Courage brands from Scottish & Newcastle in ?January 2007, prompting it to part with Team Saatchi, the ?incumbent at the time.

Courage's beer brands include Courage Best, Courage Directors, Courage Dark Mild and Courage Light Ale.

Its ?advertising shot to fame in the 80s with the "Gertcha" campaign, created by BMP, which was fronted by Chas & Dave.

It featured a man in a pub playing a piano, while a song by the Cockney duo extolled the virtues of the beer.
Both Mustoes and Farm ?declined to comment on the review. Wells & Young's did not return calls.