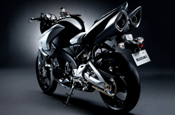 The company is approaching agencies with automotive experience, through the German agency ADK Europe, which works on strategic planning and marketing consultancy for Suzuki across Europe. ADK is drawing up a shortlist to pitch for the business at the end of August.
The successful agency will work on web build projects and digital marketing.
The car manufacturer has no incumbent digital agency. It is not known whether Nexus/H, which has handled the majority of the car marque's UK advertising activity for the past ten years, will pitch for the business.
The agency won the car manufacturer's £2.2 million outdoor media planning and buying account in January.
Last month, Suzuki teamed up with Disney Pixar to support the release of the family movie Wall-E.

The company is promoting its Swift and SX4 models via a £4 million press, outdoor and digital campaign featuring the Wall-E robot character. It uses the existing "Time for a swift exit" line.