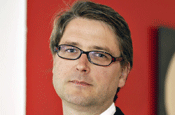 Speaking at the Venice Festival of Media, bosses of the major networks all warned that agency development is suffering as clients tighten their belts.
Dominic Proctor, the worldwide chief executive of MindShare, said: "We must get away from this reliance on driving down price through procurement. We're all talking about how important it is to invest in the future and then getting into a haggling match over whether clients pay 2 or 3 per cent for our services."
Addressing the same issue, Mike Cooper, the worldwide chief executive of PHD, said: "My biggest fear is that we don't break the mould and continue to sell our services on a savings model rather than showing how we can add value to clients."
Other issues addressed by a panel of eight agency chief executives included the continued threat posed by Google.
Proctor said: "Google is certainly a threat and the more they go on platforms and say that they are not a threat, the more I'm certain they are."
Agency bosses also discussed the future shape of the media agency and the opportunities available in areas such as branded content.
Mainardo de Nardis, the chief executive of Aegis Media, warned: "We're all lucky to work in such a creative industry but we're incredibly conservative in the way we approach it - with talk of P&Ls and silos, we try and separate everything we do as an industry. We're not good at taking risks - we're moving the right way but let's do it a bit quicker."