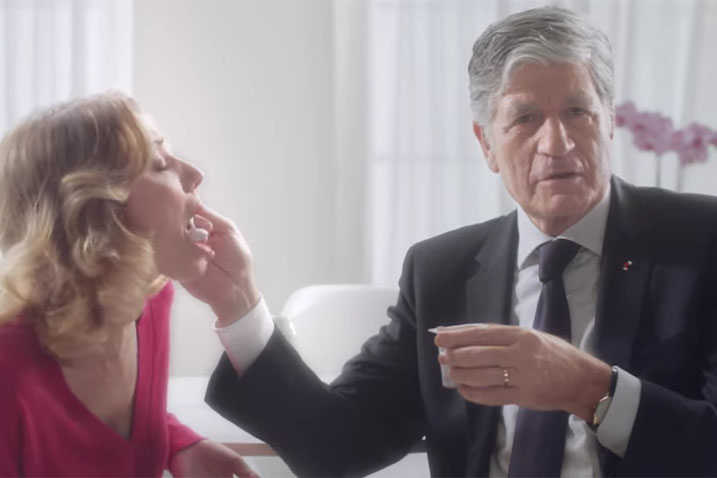 Publicis Groupe
Maurice Lévy, Publicis Groupe's chief executive, delivers his message on how the company has performed throughout the year with the chance to skip the video and watch some ads.
But by skipping a video of Lévy sat behind a desk with a "Yes… I am the BOSS" mug, you'll see him turning up in the middle of ads for yoghurt and laundry powder, still trying to tell you about Publicis' year. At one point, he wears a wig, taking over an ad for shampoo.
J Walter Thompson
Ever wondered which elf created your Christmas present? Well, wonder no longer because JWT has created an app through which you can scan the barcode of the gift and watch a short video message from the elf.
Iris
Iris is raising money to help send children with life-threatening illnesses to meet Santa in Lapland. Staff and clients are running and cycling the 3,273 kilometres distance between the agency's office and Santa's home. Iris will donate £1 for every kilometre to When You Wish Upon a Star.
Kitcatt Nohr
Christmas can be a time to let go, given the amount of booze flowing and regrettable behaviour in December, so what better than the Seasonal Sorry Dispenser?
Kitcatt Nohr has created a way of making amends, be it with your boss, the intern or a colleague. All you need to do is fill in a couple of boxes and the tool generates a letter of apology.
Isobel
For some reason, the agency put every member of staff through three hours of painstaking make-up and prosthetics to become OAPs.
We Are Social
The digital shop has teamed up with Age UK again this Christmas to encourage people to donate the cash they would normally use for a Secret Santa gift. People can point out a present they would have bought from a virtual shop, then donate the money, and the recipeint gets a gift card explaining the gesture.
Antidote
If you don't want to donate your money to charity and are having trouble choosing a Secret Santa gift, Antidote has found a number of items that you can buy for £10 including "fucking expensive granola" and beard glitter.
Brand & Deliver
Naming an agency is hard but AgencyCreatr makes it easier with a game that helps you choose the name, colour and ethos. All you need to do is pick a brand colour, animal, font and mission statement.