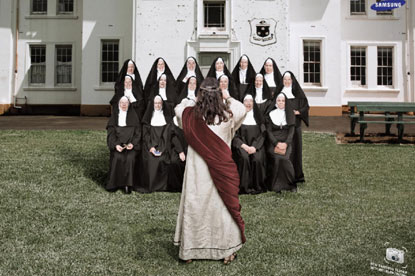 The ad has been called "an attack against Christian symbols", after it was published in the Lebanese newspaper Al Mostakbal last week.

Samsung had not commissioned FP7 to create any ad campaigns, and argued that the agency had only created the spot in order to pick up some honours at the recent Dubai Lynx Awards.

Sunny Hwang, the president of Samsung Electronics Levant, said: "At no time was Samsung Electronics aware of these advertisements and the company has not approved or commissioned FP7 to create any advertising campaigns.

"Samsung has the utmost respect for all cultures and religions and would never produce or approve the use of such culturally insensitive advertisements."

At the award ceremony, FP7 picked up two golds and a silver for its Samsung work, as well as winning the agency of the year title.

The agency is now being investigated by the event's organisers, and is expected to be stripped of its honours.

Phillip Thomas, the chief executive of Cannes Lions, the organiser of the Dubai Lynx Awards, said: "It appears in this case that FP7 Doha has knowingly tried to mislead ourselves and our jury regarding work they claimed to have created on behalf of Samsung Electronics, which in reality the client had never seen or approved."

FP7, which is part of Interpublic Group and has an affiliation with McCann Worldgroup, is expected to hear its fate on Tuesday.