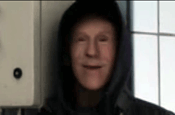 Users can upload their picture to www.facespook.co.uk and become involved in their very own Spooks-style mission, breaking into a secured building to retrieve highly-classified information.

The site creates a film of the user taking part in the mission, bluffing past past security guards, making split-second life-or-death decisions and evading gun-wielding criminals.

Below the video being played is a strapline directing viewers to watch the first episode of the new Spooks series, which starts on August 10th.

YouTube has a selection of celebrities who have already been "Face-spooked", including Bill Clinton and Bruce Forsyth.