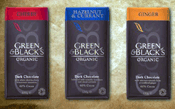 The agency pitched against undisclosed agencies and has now been added to the Cadbury roster to create the first-ever digital campaign for Green & Black's.

The Cadbury-owned brand uses the marketing communications agency Brave to handle its offline UK advertising.

Most recently, Brave completed an experiential campaign for the confectionary brand that saw a chocolate-tasting session held at the Royal Opera House.

Before that, the agency created a £2 million "choose any colour" print campaign in Autumn 2007, which emphasised the brand's organic credentials and illustrated the new Green & Black's packaging.

The agency also launched an online debate about the British public's love of chocolate.

The appointment of Agency Republic comes soon after Green & Black's announced that Starcom would retain its media planning and buying account, after Cadbury moved the rest of its media account into PHD in July.

At the end of 2007, Green & Black's scrapped the position of UK marketing director.

It then appointed Kellie Fernandes to its head of global marketing in July, replacing Mark Palmer, who remains there in a non-executive capacity.