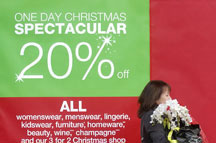 This Christmas period, an unprecedented number of retailers began discounting aggressively in an attempt to encourage recession-wary shoppers into their stores. Now, however, analysts warn that if they continue on this path outside traditional sale periods, they risk damaging their brand identity and alienating the very consumers they need to woo.
Marks & Spencer began discounting before Christmas for the first time since 2004 with two one-day 'spectaculars', in which it cut 20% off the price of all non-food items. The retailer's chairman, Sir Stuart Rose, reported the days to have been 'an absolute riot', yet M&S' overall Christmas trading figures, announced last week, were still its worst in a decade.
'Flash sales' may have staved off more disappointing results, but there is a danger that participating retailers may have inadvertently damaged their brands in the process.
'Retailers that don't usually put an emphasis on price could damage trust and alienate loyal middle-market customers who go there for the premium experience,' warns Neil Saunders, director of Verdict Consulting. 'M&S' one-day spectaculars may have been a good strategy for driving sales in the short term, but if it continues discounting, people will start to compare it with discount retailers, which it can't compete with.'
Short-term thinking
Department store Debenhams is known for its 20%-off, three-day sales, which run as part of its regular promotional calendar; the M&S 'spectaculars', in contrast, were unexpected, and so could be viewed as a knee-jerk reaction to weak sales, despite it positioning them as a 'treat' that showed it was listening and responding to the needs of its cash-strapped customers.
'Discount strategies need to be managed carefully,' adds Saunders. 'Debenhams' November sale is well established, but the M&S one-day spectaculars left many of its loyal customers annoyed because they had brought its products already, at full price.'
There is also the problem that if retailers communicate that they are holding their 'biggest sale ever' too often, the impact is diminished. Equally, regular sale activity means consumers grow to expect discounts and become unwilling to buy products at full price, further reducing loyalty.
'Customer loyalty is slipping as consumers are becoming aware that there are more bargains around,' says Sue Burden, head of brand and communications at market research firm TNS. 'They're feeling the pressures of the outside world and starting to shop around more.'
Consumers are also, not unreasonably, questioning why products were so expensive before the discounts were imposed. This presents a fresh challenge for brands, according to Martin Hayward, Dunnhumby's director of strategy and futures. 'Retailers aren't going to be able to persuade them to spend the same once their margins are exposed.'
Consumer assurance
Elsewhere on the high street, John Lewis equalled last year's sales figures despite the tough trading conditions. It held off from wide-ranging discounting until Boxing Day, later than rivals - but ran an ad campaign to highlight its 82-year-old price promise 'Never knowingly undersold'.
This was a masterstroke, according to Saunders. 'The "Never knowingly undersold" promise is the ideal trading strategy,' he says. 'It's a safeguard for consumers and means that it is competitive all the time.'
The contrast between M&S and John Lewis is an interesting one, not least because both are viewed as premium retailers; however, the former's proposition does not incorporate a price promise.
It is unclear whether retailers will maintain these sales strategies in 2009. Saunders predicts there will continue to be heavy discounting on the high street for the first half of the year, but that, as the weaker pound makes it more expensive to buy stock from suppliers abroad, retailers will have to change tack. Only when prices subsequently rise again will the real brand winners emerge.