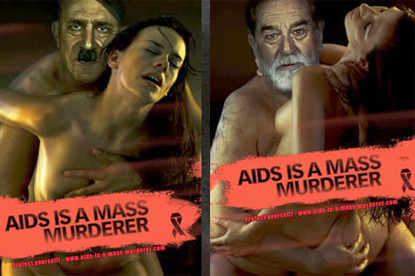 The TV ad carries the strapline "Aids is mass murder", and sees a woman having sexual intercourse with a man. At the end of the 45-second spot, the man turns to the camera and his face appears to be that of Adolf Hitler.

A poster version of the campaign carrying the same strapline is running alongside the TV spot. The executions feature dictators including Joseph Stalin and Saddam Hussein in the same pose with a woman.

While Aids organisations across Europe lambasted the ads for likening Aids sufferers to mass murderers, Das Comitee, which created the spots for the German Aids awareness group Regenbogen e.V, defended the campaign.

It claimed the ads were highlighting that the face of the illness was an unattractive one in a bid to highlight the dangers of unprotected sex.

The campaign breaks in Germany this week and will run on TV after the 9pm watershed until World Aids Day on 1 December.