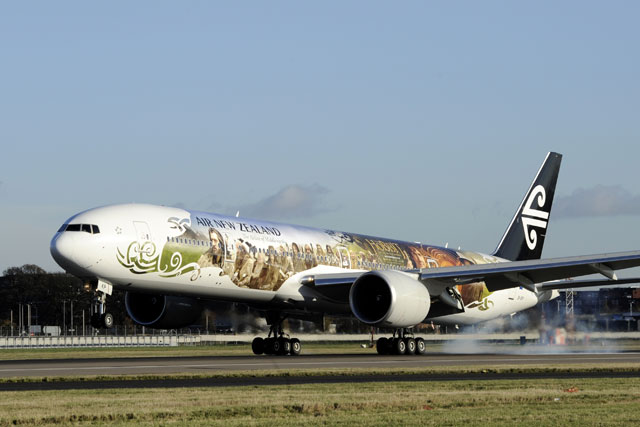 The airline is using images from the film, a prequel to the 'Lord of the Rings' trilogy, to highlight the fact the franchise is filmed in New Zealand, by New Zealand-born director Peter Jackson.

Air New Zealand's 777-300 aircraft is touching down in Heathrow for the first time this morning (26 November) and the plane is due to travel between Auckland, Los Angeles and London in the coming weeks.

The personalised 73 metre-long aircraft will also appear at the red-carpet premiere event in Wellington on 28 November.

Images from the movie, which stars Sir Ian McKellen as Gandalf and Martin Freeman as Bilbo Baggins, have already been licensed out to Microsoft for a Windows Phone ad campaign.

Air New Zealand has also filmed a Hobbit-themed safety video called 'An Unexpected Briefing', created by Weta Workshop, in order to capitalise on the much-hyped release of 'The Hobbit: An Unexpected Journey'.

The video starred cast and crew from the film, fans of 'The Lord of the Rings' and Air New Zealand staff and has now racked up 10 million views on YouTube since being released on 1 November.

Sue Kroll, president of worldwide marketing at Warner Bros Pictures, said: "Air New Zealand has already proven their creativity and innovation with their delightful Middle-earth-inspired safety video, and now this extraordinary aircraft wrap."

Air New Zealand will overhaul another one of its long-haul aircraft next year for the second movie in the trilogy, 'The Hobbit: The Desolation of Smaug'.
Follow @mattchapmanuk