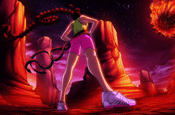 The campaign, "be transformed", follows the stories of athletes Sarah Walker (BMX, New Zealand), Hannah Lo (kick-boxing, Malaysia), Sonia Kong (beach volleyball, Hong Kong), Mel Lozano (ultimate Frisbee, Philippines) and Flora Hon (hip-hop dance, Hong Kong).

The six spots combine live action and animation to tell the athletes' individual stories.

The campaign will run exclusively in the Asia Pacific region across cinema, TV, digital (mobile and website), print, out-of-home and in-store. It includes a 110-metre long building wrap of Beijing's International Plaza, one of the largest department stores in the city.

It challenges women to understand the value of training and to rally around a manifesto to become stronger and more confident.

Curious Pictures, which also worked on the six ads, used different animation styles to showcase the different shoes in the Zoom Sister series.

Women can view video and blog content online on the six athletes and set individual training plans to help aid their personal transformation.

Ricky Engelberg, Nike's digital director for Asia Pacific, said: "The 'be transformed' initiative celebrates the revolution across all aspects of women's lives. Nike aims to inspire them to take control of their own personal development and understand the value in training."