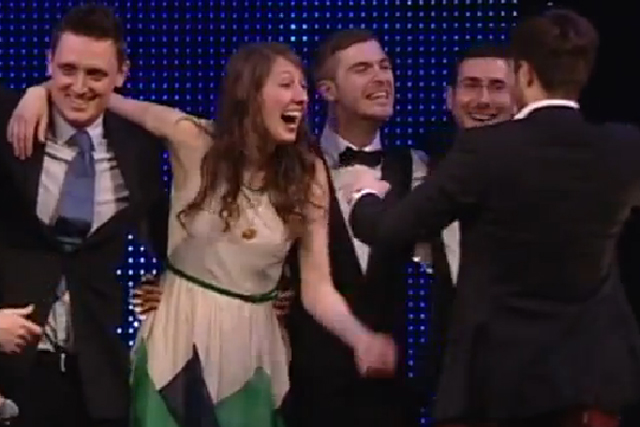 Judges were split into two panels of digital and marketing experts. The agency side judges included experts from M&C Saatchi, MediaCom and Collective London, while the client side panel welcomed judges from Unilever, Virgin Media and American Express. All their scores have been collated to produce an impressive shortlist of the UK's best digital campaigns.
This year sees a total of 27 awards being handed out, with the winners being announced at a glittering awards ceremony at London's Grosvenor House, Park Lane, on 17 May.

Not only a celebration for the shortlisted companies, but also an excellent networking opportunity, the Rev Awards promises to be an exciting night. Visit the Rev Awards website to book your tickets: Revawards.com.
Shortlist in full:
Automotive & Transport

New Star of India by AKQA for Nissan
The World's Cheapest Taxi Rank by AKQA for Nissan
You Drive by AMV BBDO for Mercedes
Bands in Transit by Mindshare Media UK for Ford
MINI Psychic Roadster by Profero
The Catch by Weapon7 for Mercedes-Benz

Business to Business

Real: The Physical Network by 1000heads for Royal Mail
GE Maps by Beyond International for General Electric
Energy Realities by Mediabrands (UM London) for Statoil
A Voice of Reason by Mediabrands (UM London) for Microsoft
Energy Made Simple by Rufus Leonard for British Gas Business

Communications

Say it with Skype by 1000heads for Skype
Gone Roamin': A Summer of #O2travel by Hope&Glory PR
Virgin Media's 100 Day Game Project by Fifty6
Xbox Live Experience by Maxus Communications UK for BT
A Voice of Reason by Mediabrands (UM London) for Microsoft
Dell Music by TBG Digital

Fashion

How the Onesie Stole Christmas by Forward3D for Republic
The Times Rich Print: Interactive Fashion Specials by News International

Financial Services

Little Book of Wonders by Barclays Bank
Halifax Home Finder Mobile App by Grapple for Lloyds Banking Group
AXA PPP - Little Big Things by Havas Media
Barclays Investment Philosophy Campaign by Ogilvy Group
Redesign of Consumer Website by Towergate Insurance

FMCG

Bodyform Responds: The Truth by Carat UK for SCA/ Bodyform
Lip Butter Launch - Sweet Boutique by Holler for Revlon
Hubba Bubba - 'Now That's Original' by Mesh London for Wrigley
Attract For Him and For Her Online Launch by Tullo Marshall Warren for Unilever, Lynx
Always On by Tullo Marshall Warren for Unilever, Lynx
'Get Well' Soup by We Are Social for Heinz

Leisure & Sport

Nike Academy by AKQA
London 2012 - #SupportYourTeam by Collective London for LOCOG
Home Advantage Campaign by Metro for British Airways
Make It Count by Mindshare Media UK for Nike
Samsung Olympics Pledge by Samsung Electronics (UK)

Media, Entertainment

MTV Under The Thumb by AKQA for Viacom International Media Networks
Nike+ Kinect Training by AKQA
Halo 4 (The Roll of Honour) by McCann London for Microsoft Xbox 360
Kinect Star Wars App by McCann London for Microsoft Xbox 360
The Walking Dead Second Screen Companion App by Red Bee Media for FX UK

Not-for-profit & Public Service

Stand Up To Cancer 2012 - Social Media Campaign by Cancer Research UK for Cancer Research UK and Channel 4
Lottery Good Causes by Numiko for National Lottery Promotions Unit
The official website of The Prince of Wales and The Duchess of Cornwall by Reading Room London for Clarence House
Gallery of Mo by twentysix
Blind Eye by WCRS for Women's Aid
Prostate Cancer UK Football League partnership campaign by Zone

Retail & E-commerce

Littlewoods Live by dot.talent
FWM weatherFIT ™ by Fast Web Media for Bravissimo/ Pepperberry
Snap a Napper by LIDA for IKEA
Gold Medal Winner Stamps by Mediabrands (UM London) for Royal Mail Group
The MSN Food channel in partnership with Sainsbury's by Microsoft Advertising and PHD
TOPMAN 360 by TBG Digital
Platforms

Advertising

Summer Sale 2012 Campaign for House of Fraser by eBay Advertising
Google+ Christmas Hangout by Essence Digital
Chrome European Browser Wars by Essence Digital for Google
Pedigree Puppy to Dog Programme by Hypernaked for Mars Petcare
Gold Medal Winner Stamps by Mediabrands (UM London) for Royal Mail Group
Jack Reacher Theatrical Digital Advertising Campaign by This Is Tommy for Paramount Pictures International

Affiliate Marketing

Thomas Cook. Going Further. by Affilinet and Freemax
Domino's Pizza and Squawka.com Euro 2012 Partnership by Arena Media
Understanding the True Value of the Affiliate Channel by Affiliate Window for BskyB
Post Office Affiliate Marketing 2012 by Mindshare Media UK
Tesco Affiliate Program by Tradedoubler
The Body Shop Affiliate Program by Tradedoubler

Email

The Untapped Profits of Email Marketing by Affilinet Ltd for Tesco Kitchens and Finest Bathrooms
Mazda6 by Balloon Dog
Mazda eCRM by Balloon Dog
Save Our NHS by Other Creative for 38 Degrees

Integrated

Look for Longer by 1000heads for CBS Outdoor
#BestNightEver - ASOS Christmas Campaign by ASOS
Gold Medal Stamps by Beta for Royal Mail
Hope Relay by CHI & Partners for Samsung
MINI Psychic Roadster by Profero
Prometheus: World – First Innovation to Drive Box Office by Vizeum for 20th Century Fox
Mobile

MTV Under The Thumb by AKQA for Viacom International Media Networks
V Festival Mobile App by Bolser
Halifax Home Finder Mobile App by Grapple for Lloyds Banking Group
Harrods Magazine for iPad by Harrods
RBS 6 Nations Live Challenge by Jam

Search

Integrated Christmas Campaign by 4Ps Marketing for Lindt & Sprungli
FWM weatherFIT ™ by Fast Web Media Ltd for Bravissimo/ Pepperberry
Kuoni Multi- Signal Search by LBi
River Island Searchw 2012 by Mindshare Media UK
Improving Performance No Matter What the Weather! by Net Media Planet
Building Brand Awareness Through a Content and Search Led Strategy by VCCP Media for Sage

Social

You Drive by AMV BBDO for Mercedes
Roll of Honour (Halo4 Live ad) by McCann London for Microsoft
Warming Up For The Biggest Night Of The Year by OMD UK for Channel 4
Attract For Him and For Her online launch by Tullo Marshall Warren for Unilever, Lynx
Always On by Tullo Marshall Warren for Unilever, Lynx
'Get Well' Soup by We Are Social for Heinz

Video

#BestNightEver Shoppable Music Videos - ASOS WW Christmas Campaign by ASOS
Bodyform Responds: The Truth by Carat UK for SCA/ Bodyform
The Swarm by LBi for Sony Mobile
Dell Alienware by Mediacom
skate fortwo by Weapon7 for smart

Viral

Bodyform Responds: The Truth by Carat UK for SCA/ Bodyform
Battlefield 3 ™ - Moments by Collective London for Electronic Arts
Break from Gravity by JWT London for Nestle
The Catch by Weapon7 for Mercedes-Benz

Website

Creating Amazing Online by Amaze for Lexus Europe
Foxes Live: Wild in the City by Numiko for Channel 4 & Windfall Films
Energy Made Simple by Rufus Leonard for British Gas Business
The Reserve Club by Tullo Marshall Warren for Diageo
Cineworld Website: The Re-Launch by we are experience
Bowmore Website by Yomego for Morrison Bowmore Distillers

Creative Technology

Nike Fuel Station by AKQA
Nike+ Kinect Training by AKQA for Nike
Bringing the Museum of London to life with NFC by Bolser
Interactive Shop Window at John Lewis, "Say Hi TV!" by Knit for adam&eveDDB
The Web, Your Way - Making the Impossible Possible by Manning Gottlieb OMD for Sony PlayStation

Engagement

Real: The Physical Network by 1000heads for Royal Mail
Brandon Generator by 3 Monkeys Communications for Microsoft
Red Bull Bedroom Jam 2012 by fuse8
Absolut Spirit of London by Holler for Absolut Vodka
Get Well Soup by We Are Social for Heinz

Marketing on a Shoestring

Bodyform Responds: The Truth by Carat UK for SCA/ Bodyform
The Shovel List by Havas Media for Penguin
Jubilee Street 'Food' Party by Manning Gottlieb OMD for Waitrose
#THREEPASSTHEPARCEL by Mindshare Media UK for Hutchinson 3G/Three UK
Pinning Their Hopes by Weapon7 for UNICEF

Expertise

Digital Brand of the Year

Reader vote

Digital Media Brand of the Year

Metro
Spotify

Agency of the Year

AKQA
LBi
Mindshare Media UK
We Are Social
Zone