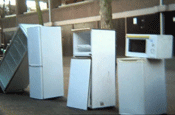 Named
Tipping Po
t, the viral mimics the expensive Nicolai Fuglsig advert featuring a domino rally featuring cars, hay bales and grandfather clocks.
However, the digital agency has relocated the action from an Argentinian mountainside village to a gritty council estate in north London .
Allan Little, brand development manager for Pot Noodle, said: "The community loved the idea and couldn't wait to get involved, which was brilliant.
"The Guinness ad is good, but I knew that by bringing it closer to home we could go one better. Their dominos only went downhill - we've got some that go up steps!"
The spoof viral features real people living on two estates, going about their day-to-day business.
The objects in the viral's domino chain include cigarette packets, mobile phones, a wheelchair, white goods and supermarket trolleys.
It is triggered after a drunk asleep on the bar of the estate's pub is woken by the sound of a fellow drinker breaking wind.
The ad ends with a woman with a London accent shouting: "Matthew - where's my fricking microwave?"

What do you think of the viral? Let us know what you think below.


Credits

Creative Agency:
AKQA
Executive Creative Director:
James Hilton
Writer:
Colin Byrne
Planner:
Mo Rogers
Account Director:
Rowena Minhas
Agency Producer:
Emily Bull
Producer:
Lucy Hayes
Post Production:
Smoke & Mirrors
Director:
Dom Bridges
Editor:
Dom Bridges, Nathan Perry Greene (Cut and Run)
Production Company:
Mustard London
Media Agency:
Cake