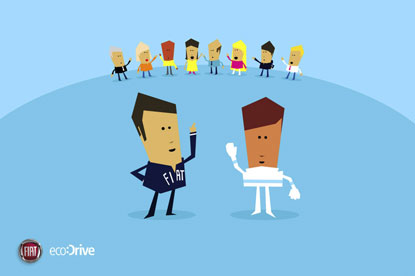 Grands Prix were also handed to the multi-awarded CumminsNitro campaign "The best job in the world" for Tourism Queensland and to the Warner Bros' "Why So Serious?" alternate reality game for The Dark Knight movie from 42 Entertainment.

Bartle Bogle Hegarty's Barnardo's ads – "what we hear" and "break the cycle" – won two of the UK's three gold Lions
The Barnardo's ads would have been a serious contender for a Grand Prix but were not eligible since they were for a charity, the jury member Iain Tait, the creative director at Poke, said.

The Viral Factory bagged the third gold for a UK campaign for Diesel XXX SFW and the agency also won one of the four UK silver Lions for Samsung Mobile's "unboxing".

Other silvers went to Saatchi & Saatchi for T-Mobile's "dance", Agency Republic for Sony PlayStation's "Killzone 2" and Sony Music Entertainment for Columbia Records' "AC/DC rocks the office".

There were five UK bronzes – for BBH's "education" for Barnardo's; Fallon's BBC "blast"; Agency Republic's "the truth about Smart" for Mercedes-Benz,Digital Outlook's "time for a story" for Chorion and Poke's "balloonacy" for Orange.

Tait said: "Eco:Drive won out for AKQA because the agency understood the way that the campaign would spread around the internet – it was only for Fiat drivers but actually it was about the conversations that it generated."
More from Cannes Lions 2009