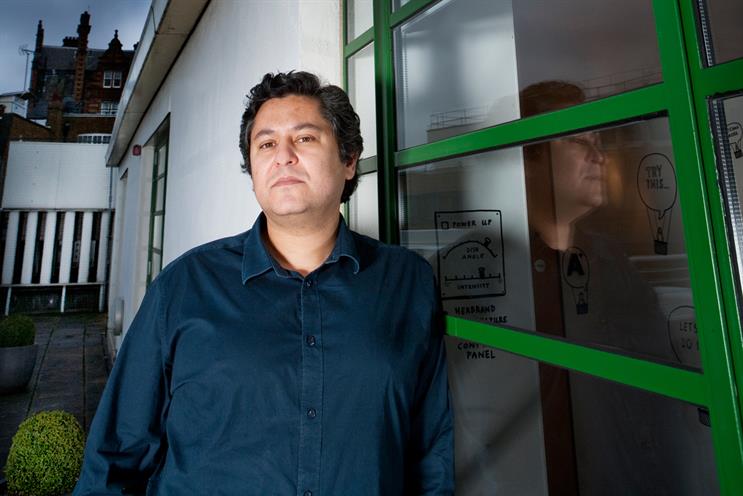 Have you ever heard of the Peter Principle? It states that, in a meritocracy, everyone eventually gets promoted above their competence. It's not always that the new job is too hard – just different. A great teacher might make an awful school head, for example.
A senior adland figure said this to Campaign when speaking about Zaid Al-Zaidy, who was made the chief executive of McCann London in October after five months as its chief strategy officer.
Al-Zaidy has a reputation for understanding brands like almost no-one else. But it is quite reasonable to say that he is untested in a leadership role of this scale and, naturally, people are wondering how he will handle the leap.
"He's a thorough-bred marketer. He has got brains and ambition, and he's a decent person," one source who knows Al-Zaidy says. "But [as McCann's CEO] he will have to stare down global management. There's a brutality at that level that he hasn't had to show yet."
It doesn't help that he replaces Chris Macdonald – as hard a businessman as you will find in adland – in the job, but Al-Zaidy just shrugs. "I've got all the experiences I need to make a go of the job," he says. "It's just a bigger version of what I have done before."
Al-Zaidy's background doesn't do him any favours either: he's a planner. Rainey Kelly Campbell Roalfe/Y&R's Ben Kay is a planner who has made the transfer to CEO, but even he says that the move still "raises a few eyebrows", even if there is a growing case for putting strategists at the top.
"There's an old-school belief that planners can't make good CEOs," Havas Worldwide London's Russ Lidstone, another CEO with a planner background, says. "A lot of client interface and networking was deemed to be the provenance of account handlers, while planners were seen as bookish. But agencies are changing and strategists are applying their skills to their own businesses."
Ignoring the assumptions around planners, there is plenty on the McCann CEO's CV that inspires confidence.
Al-Zaidy went into marketing after attempting to be an art dealer. He wanted to sell Middle Eastern art to Arabs and dallied with buying a shop on Portobello Road, but he dropped the idea after discovering that Iranians had the market cornered.
In London, BBH and Mother are very fortunate financially because they do good creative work
Al-Zaidy decided to try marketing and says he fell in love with brands. He began at Unilever – he spent eight years working on Sure as the brand manager and then on Lynx as the innovation manager. He made the decision to switch to the agency side after six frustrating months going through quantitative and qualitative research for an ad that everyone knew was going to be a hit from day one – Bartle Bogle Hegarty's "getting dressed" for Lynx.
He then joined Mother – against the advice of a friend, who said the agency was no place for planners – as a lead strategist. He worked on Boots, Eurostar and Pot Noodle, and describes his time there as inspiring. After that, he took a job at RKCR/Y&R and managed its digital shop, Saint, then moved to TBWA\London for a short spell before joining McCann in May.
He says he didn't know much about McCann and only started paying attention when some former Mother colleagues – Linus Karlsson, Rob Doubal and Laurence Thomson – joined the agency. In the end, though, he says it was McCann's clients that sold the agency to him.
Al-Zaidy's feet were barely under the table when he was made CEO, though he says it helped to have backing from Doubal and Thomson (now the co-presidents and executive creative directors), the chief financial officer, Sajad Manzoor, and the global chief strategy officer, Suzanne Powers, with whom Al-Zaidy worked at TBWA.
Part of Al-Zaidy's brief is to create an environment where Doubal and Thomson can thrive and give McCann the creative kudos it has lacked over the years – and he says change is already under way. But others are quick to point out that CEOs are judged on bringing in new business, not creative output.
"In the London market, it has to be that fortune follows fame," Al-Zaidy replies. "BBH and Mother are very fortunate financially because they do good creative work."
Al-Zaidy has other plans too. In addition to putting creativity at the top of the agenda, he wants McCann to start servicing brands holistically, exploit film content in new ways and across different media, and convince clients to think about communications planning earlier and higher up the corporate food chain.
All sensible ideas. But there has never been a question mark above Al-Zaidy's ideas.
"It's easy for planners to espouse principles and ideologies, without always having to see them through as a reality," he says. "My challenge will be working out how to ensure that my strategy for the business is executed brilliantly. And that the day-to-day 'noise' doesn't get in the way of fast progress."
In other words, not let his plans peter out.