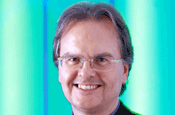 Bishop, who was formerly chairman at Saatchi & Saatchi International, will join the organisation early in the New Year. He succeeds Michael Lynch, who had occupied the role since 2002.

Bishop began his advertising career at Bates London in 1974. He then proceeded to become a founding partner of start up agency Milton Sharam Gottlieb, before moving on to Foote Cone & Belding in 1981.

From there Bishop joined Saatchi & Saatchi in 1985, holding a number of senior positions, eventually ending up as chairman international in New York.

He then joined the COI as chief executive in November 2002.

Bishop said: "I am passionate about taking on this important role at London's and the world's leading art venue.

"I really look forward to working closely with chairman Rick Haythornthwaite, artistic director Jude Kelly and the whole Southbank Centre team to build on the triumph of the reopening and the many achievements so far."

Haythornthwaite, chairman of the Southbank Centre board, said: "I am delighted to announce the appointment of Alan Bishop as chief executive of Southbank Centre.

"He is the right man for the job and someone who has the skills to lead the organisation through its next major stage of development, looking towards the Olympics and beyond."