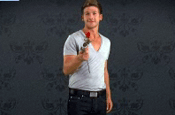 The digital work allows the man to sit on computer desktops and entertain the lucky user with dancing and compliments.

In between times, the man works out and gets on with housework.

Jason Goodman, MD and founder of Albion, said: "This work is really compelling and engaging.

"And it is all the more exciting to take an established brand like Remington and create digital work that is dynamic and totally contemporary."