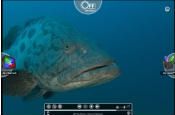 Joost has hired Albion to work on its communications, and to produce a creative campaign for the roll-out of the service, which is expected to be available by the summer.
Albion, which was appointed without a pitch after working with Skype, the company Zennstrom and Friis sold to eBay for $2.6 billion, is also developing the Joost website, partner marketing and viral communications.
Joost, seen as a potentially serious rival to the likes of YouTube, will blend TV-style content, programmes and advertising with user-generated content and chatrooms. It has signed a content agreement with Viacom, Warner Music and Endemol. A test version of the service is available at www.joost.com.
Jason Goodman, the managing director of Albion, said: "It's amazing to be working with a business that is redefining the TV experience."