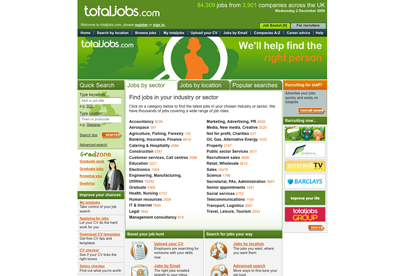 The incumbent on the business was Saint, Rainey Kelly Campbell Roalfe/Y&R's digital arm. It declined to repitch for the business. The agency had created online campaigns for Total Jobs but the job site, backed by an increased marketing budget, now wants a more integrated approach, which will include TV, print and experiential.
Total Jobs has been the UK's most visited recruitment website since 2006, but has struggled to build on its position as the market leader.
Albion will now be briefed to create an integrated campaign designed to raise consumer awareness of the site and build the Total Jobs brand. The most recent work used a series of banner ads that were devised around the positioning of "Total job satisfaction".
The ads featured animated characters holding up signs underlining the benefits that finding a new job can bring. It carried the strapline: "Let your next boss find you."