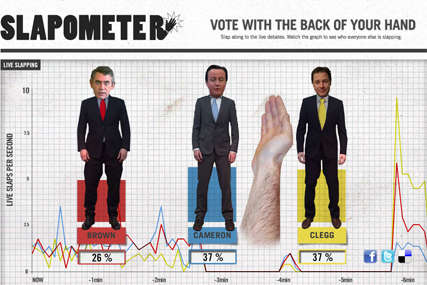 The campaign, which launches today, features a website where users can slap Gordon Brown, David Cameron and Nick Clegg in the face, simply by sliding their mouse cursor across the screen.
Users are encouraged to visit the site during the live TV debates that the party leaders are due to take part in, and slap along when a candidate says something that's not to their liking.
Albion will display live graphs that show what people are feeling in real time, with post-debate analysis showing which candidate received the most slaps, and at what point the most slaps were awarded.
A "practice mode" will also be made available for before and after the debates, so that users can continue to take their anger out on the politicians at all times.
Albion has said that it has launched the site as a way of gauging the popularity of each politician, as well as helping to highlight the current sentiment surrounding the election, with the feeling that there's no-one that people want to vote for - only against.
The campaign has been launched off the back of Albion's successful Slap Nick Griffin site, which gave users the opportunity to voice their disgust against the BNP by smacking a video recording of the far right politician speaking to Ku Klux Klan members.
Griffin was slapped more than 20 million times in the first week that the campaign was launched.