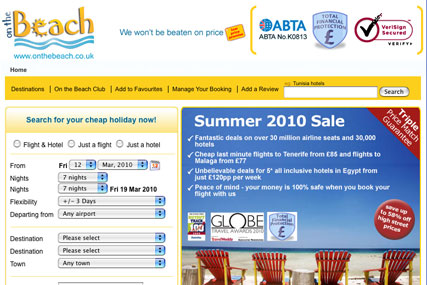 The agency won the business following a pitch against Cheethambell JWT, in a process handled by Oystercatchers.

Albion will now be responsible for creating a series of advertising campaigns for On the Beach, working around the brand's positioning as "the beach experts".

The agency's first work for the company will launch in May, to help raise awareness of the brand ahead of the summer holidays.

Albion will then roll out a large-scale integrated ad push in 2011, to help establish On the Beach as one of the main players in the online travel market.

Albion's appointment is the first time that On the Beach has worked with a retained agency on its advertising business.

Previously, the company has used an in-house marketing team, which recently launched a Facebook application that allowed customers to easily book holidays together as a group.

Alistair Daly, the marketing director for On the Beach, said: "We are incredibly happy to have Albion on board and feel that they have the right strategic and creative thinking to drive the On the Beach brand forwards to broaden our consumer awareness. I'm looking forward to working with them in the coming months".

Jason Goodman, the chief executive at Albion, added: "On the Beach is a great brand with entrepreneurial spirit that's truly in tune with what people want from a beach holiday. We're delighted to be working together."