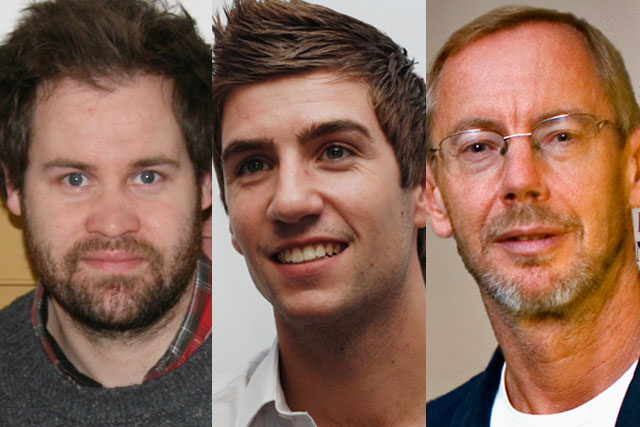 Jason Goodman, the founder and chief executive of Albion, is one of those omnipresent figures everyone knows and it's hard not to like.
There can be no doubt that it has been his energy and enthusiasm that has helped propel the digital agency from its humble beginnings in a shopfront in Shoreditch to its 70 person home in the Tea Building today.
It's required a certain degree of obsession, and, like many driven entreprenuers, Goodman can easily be accused of being married to the job.
Anyone who's been to an industry event this year will have seen him, whether at a Nabs bash or an IPA dinner, an ISBA luncheon or a debate on the future of radio, Goodman is never far away.
Unsurprisingly, the 42 year old leader has already made the time to reflect on the first decade of working with start-ups, and growing brands from scratch - like Skype and Giffgaff - for Campaign.
Asked to sum up his highlights of the last year, Goodman added: "It's a cliché saying it's all about the people and culture you create, but it's completely true."
Taking this to heart, we asked people who have been key members of Albion's team over the years, as its client portfolio has expanded with the likes of Innocent Drinks, Betfair and Wonga.com, to share their views on the agency.
Jon Plackett, a senior creative at Wieden + Kennedy London, worked at Albion in his early career and praised its open structure and work for Absolute Radio; while Neil Potter, who now works in advertising and digital comms at Nike, said everyone at the agency "truly cares" about the work they do for their clients.
Steve Henry, founder of Howell Henry Chaldecott Lury, joined Albion as a non-executive creative director in 2009 and he and predicts the next 10 years will bring "unbridled success" for the agency.
The first ten years
Jon Plackett
When did you join Albion and what did you learn at the agency?
I joined about a year after graduating so that must be, um... 2006ish? Learning to code was the biggest change during that time.
Most of the work I'm most proud of wouldn't have happened without that. It gives you a level of independence and lets you make things just because you want to.
Where are you now? Wieden + Kennedy London
What is your role?
This is a little hard to define. Technically I'm a senior creative, but I get to do lots of hands on coding and prototyping too.
What is/was different at Albion compared with other places you have worked?
Albion's got quite an open structure. Having all the decision makers in one office means if you want to do something quickly, or something that could be controversial, the right people are there to say yes (or no bloody way).
What's your favourite Albion created ad?
I think the Absolute Radio ads. I remember working on that pitch and everyone having fairly sensible ideas. Then Steve Heath read out this bizarre script with an angry dwarf grinding people.
Do you have any personal highlights?
Making the Slapometer.com was probably the high point. It might have been going to Brazil for the OK GO shoot, but I foolishly left a month before it.
Where will Albion be in 10 years?
I hope Albion will make an ad that really hits the mainstream. The kind of thing your Mum will have seen. But in ten years maybe that kind of thing will be less relevant. There's always been much talk of making products not ads and I hope things go that direction too.
---
Neil Potter
What was your role at Albion?
Account handler on Betfair and Famous Grouse (among others) from July 2010.
What do you do now?
Since then, I've gone to the dark side and become a client. I'm now working for Nike, looking after advertising and digital comms for Nike Football in the UK and Ireland.
What is/was different at Albion compared with other places you have worked?
The mix of people, the freedom to experiment and the culture of 'work hard/play hard' made Albion a special place for me. But above all, the fact that the people at Albion truly care about the work they do for their clients sets it apart. This was something that always filtered down from Jason, Glyn [Britton] and the rest of the management team.
What's your favourite Albion created ad?
I have to say The Betfair Front Room campaign. The team we had working on that for 12 months poured our hearts and souls into making it a success. We turned around TV ads in days, online film content in hours and it was one of the first ad campaigns where real life met social when our cast of football fans were offering betting tips to punters through Twitter. The framework of the campaign was ahead of its time.
More recently, I always love the work the guys do on Air New Zealand and the new Wonga work is getting massive cut-through.
Do you have any personal highlights?
I worked on (in my opinion) the best two accounts – betting and booze. Highlights had to be hospitality days at Cheltenham races and drinking 30-year-old whisky with Mark Thompson at 9am on a client trip to the home of Famous Grouse.
Work wise, being involved in so many varied projects made every day interesting: one minute I was briefing label copy for a new whisky bottle and the next analysing user flows on a betting app.
What does the next 10 years hold?
As an agency, Albion attracts a certain type of client: brands that want to challenge the status-quo and who want a fresh approach to connecting with their consumer. I see Albion continuing their momentum of growth and shaping the communication strategies for these types of businesses.
Albion is a forward looking agency that never stands still; in the next 10 years I'm predicting many "old school" ad agencies will look at the Albion model and try to replicate it.
---
Steve Henry
What is your role at Albion? Non-executive creative director.
When did you join Albion? 2009.
What has changed since then?
Difficult to say, because I don't know what it was like before. I'm tempted to say something about how in 2010 and 2011, Albion was shortlisted for Campaign's Digital Agency of the Year, and then claim that that was all down to me being part of the agency - but that would be total bollocks, obviously!
However, over the last few years, it's been brilliant to see the agency become more confident, more creative and more visible.
What is/was different at Albion compared with other places you have worked?
Albion has always felt very entrepreneurial. It has the feel of a place which will try anything, which will push at boundaries, which is restlessly seeking new and better answers. It's also a company which keeps launching innovative new businesses out of the mother ship, something I admire enormously.
What's your favourite Albion created ad?
Giffgaff 'Keith & Orville'.
Do you have any personal highlights?
Lots of good memories - but the one that sticks out now is sitting with Glyn in a converted crate, eating a pie and gravy, and talking about a way of working that involved MVPs and prototyping.
What does the next 10 years hold?
Unbounded success.
AUTOFEED INTERACTIVE TIMELINE