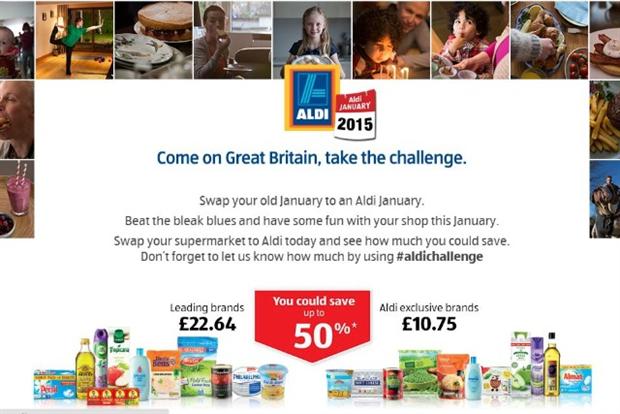 Discount rival Lidl, which did not appear on last year's survey, took second place in the 2014 survey pushing John Lewis down to third place. The survey measures positive perception of brands.
BBC iPlayer, Dyson and Waitrose took fourth, fifth and sixth place followed by BBC.co.uk, Netflix, M&S and MoneySavingExpert.com. BBC iPlayer took ranked first place last year.
"Aldi and Lidl have cemented their place at the top of our rankings due to effective marketing, great value, and an increased perception of quality products," said Sarah Murphy, YouGov BrandIndex director.
"While negative stories have often hit larger rivals over the year, the German retailers have been asserting that they are the alternative."
She added the presence of John Lewis and Dyson on the list reflected the importance of trust and long standing reputation.
Other climbers up the list included Ryanair, SSE and British Gas.
The survey also ranked brands by level of perception improvement versus last year.
Lidl was found to have the most improved perception of all the brands, followed by Ryanair, Aldi and Findus, which had been dogged by the horsemeat scandal over recent years.
Read next