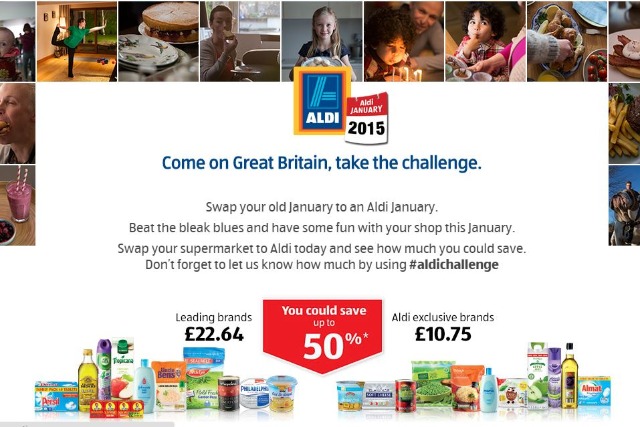 The retailer has rolled out #AldiChallenge for January, and is asking consumers to 'join the conversation' by tweeting how much they have saved at Aldi.
On the retailer's site, a page dedicated to the campaign asks consumers to sign in with their email address, select how much they have saved over the week and share the result on social media.
A minimum saving is automatically generated by the site at £1 and users are prompted to then tweet this to followers to 'join the conversation' – even if they haven't entered the value as a saving themselves.
The campaign is likely to ruffle the feathers of competitors.
On Thursday, a TV and print ad for its 'Swap and Save' activity was banned by the ASA following complaints from Tesco, which said the campaign was misleading.
It was the second ad from Aldi's 'Swap and Save' campaign to be banned, following a complaint by Asda in March. The 'Swap and Save' campaign challenges customers to compare the price of a four week shop at Aldi with a competitor.
The campaign has been created by McCann Manchester, Weber Shandwick and Clarion Communications.
Marketing director Adam Zavalis said: "It is a new campaign for January, aimed at encouraging shoppers to swap to Aldi this month to see how they could turn a bleak, blue January into one that's filled with fun.
"Our microsite asks users how much they save each week and this functionality allows the user to track their savings. If a user hasn't shopped this week, we wouldn't expect them to enter their email address or saving, and there's no requirement for a user to do so in order to view the rest of the website."
However today (7 January) Aldi confirmed it had taken Marketing's feedback on board and changed the terms of the website to include £0 as the minimum entry as the business "didn't want to mislead anybody."
Read next
15 ways to embrace change in 2015
The 2015 detox plan that marketers need to follow