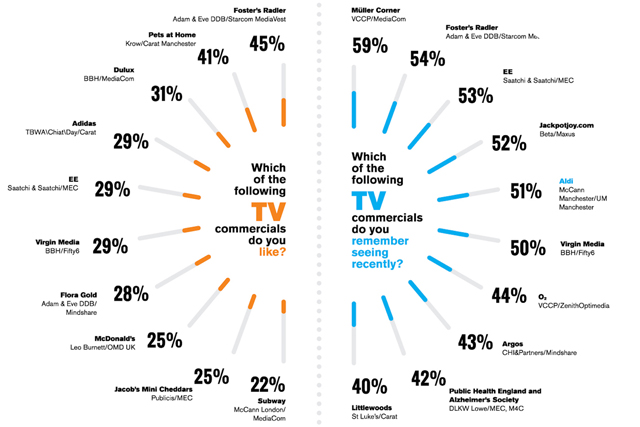 I struggled to pick an ad from the list for this Adwatch.
For the most part, they were bland. Advertising is supposed to grab attention, first and foremost. And if an ad hasn't been noticed, it isn't an ad. Most of these just don't punch their weight, which makes the one ad that sang out to me all the more wonderful.
It's great when the conventional hierarchy of things is upended. We've seen this in many, many sectors over the past decade, and now it's the turn of the supermarkets.
Aldi is clearly a company on a mission. It shows in its advertising, which is distinctive and has a wit all of its own. I'm willing to bet that this clarity and sense of purpose goes all the way up to board level. And someone up there has decided that the big five supermarkets are ripe for a mugging.
Good agencies feed off the energy of a motivated client. It spurs them to be bolder and truer to the clients' vision. The Aldi campaign appears to be a client and agency working in perfect harmony.
The result is a campaign that's unignorable. It's both charming and crass, boldly singular and, most importantly, has a point: Aldi sells food that's just as good as the big brands, but for a fraction of the cost. Can't argue with that – and what a relief it is to have a recognisable proposition.
I can't tell you what happens without killing the joy, so have a look for yourself. Search for "Aldi", "advert" and "cheese" on YouTube.
Current thinking dictates that everything is wrong about this advertising. It's on TV, for a start; it's 40 seconds too short, it wasn't expensively shot, doesn't have a strong online element (at least if it does, I'm not aware of it) and, damn it, it wasn't even done by a glittering London agency. It's the antithesis of what everyone says modern advertising should be. But all that just makes me admire it more.
Despite these "shortcomings", it has a sharpness that lances the pretension of the big boys. It's the polar opposite of the phoney emotion and self-righteous preaching that seems to be the industry standard (big exception: the Sainsbury's Christmas ads, which managed to be genuine tear-jerkers). These ads are low-budget and make a virtue out of that. Some might find the caustic humour offputting, but a clever client would never have a problem polarising its audience.
Better to have half the people with you than everyone indifferent.