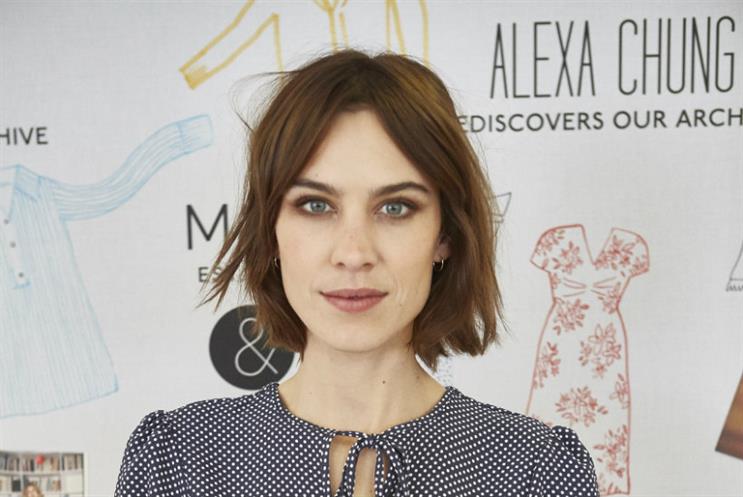 With M&S's clothing still not recovering from a long-term decline, the stakes are high for the high street stalwart and it is pulling out all the stops in its efforts to attract new shoppers to its fashion offer.
Chung and Dunn, with their powerful appeal to millennial singles and millennial mums, are a dream team for the chain that has frequently been criticised for too-frumpy fashion.
Former model-turned-TV-presenter Chung has already proved she can have a beneficial effect on sales with a suede skirt hero piece from M&S's 70s-influenced collection last year selling out after she was photographed wearing it.
The company has been building buzz around the two launches for several months with regular social media updates culminating in a number of carefully-placed editorials at the weekend and during this week.
Attracting a younger audience
But will these two launches solve the chain's problems? Obviously not on their own, however, anything that attracts millennial shoppers away from the food-to-go section of an M&S store and onto the fashion floor is a positive move.
Chung's launch is a big deal for M&S and is part of a multi-collection deal. The debut yesterday saw a publicity blitz with Chung herself front and centre as she acted as a 'sales assistant' in-store at the Marble Arch, London flagship. She had started the week by sharing campaign images with her 2.2m followers on her Instagram feed on Monday.
The collection itself is partially an archive reissue but also sees a number of pieces updated for 2016.
It ticks a number of key boxes for M&S's fashion offer, targeting those new, younger shoppers without alienating its existing fan base by giving them unchanged classics.
However, some of those unchanged classics in the 31-piece edit do not shout 'celebrity collaboration' with a grey pleated skirt, a pair of thermal vests and a 'school' cardigan lacking any kind of unique appeal.
That cannot be said of the some of the line's star pieces however, with a 60s-influenced spotted mini dress, a retro apron print mini dress, and an olive trench coat looking strong. The 1981-reissue piecrust frill blouse is also very on-trend and sold out online in many sizes during day one.
Meanwhile Dunn's line has tapped into her high profile as both a supermodel and a single mum to create her largely-unisex kidswear offer. Her six-year-old son Riley has figured prominently both in product development and in the marketing campaign around the launch.
The unisex angle could be key in appealing to the new customers M&S is targeting as it taps into the gender-neutral trend that has proved a hit among millennials. And with 80% of new mums in the UK now falling into the millennial age group, the Dunn line could be a winner.