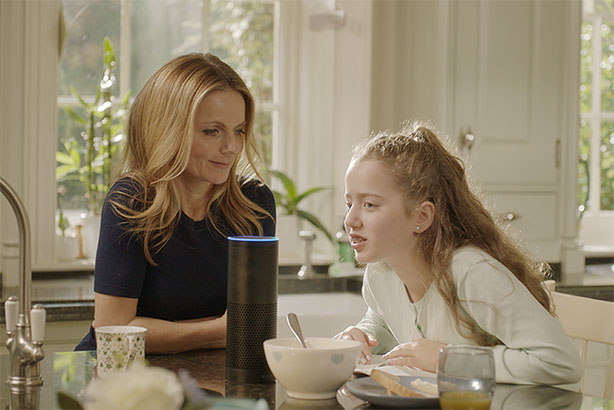 Telecoms giant O2 and children's charity NSPCC have launched a "Parents v Kids" voice-activated quiz on Amazon Alexa – part of a collaboration that aims to educate parents and help them feel more confident about talking to their children about online activity.
Former Spice Girl Geri Horner and her daughter Bluebell front the campaign, which is based on the results of a survey of 1,000 parents and children aged between eight and 13. The research showed that 48% of parents "feel confused with the language that younger people use" and that children are more equipped to speak confidently about who has the most views on YouTube or celebrity culture than topics on the school curriculum.
For example, 54% of children knew that Zoella is one of the most-viewed stars on YouTube, while just 17% knew who invented the internet.
Horner and her daughter, aged 12, were the first to try the quiz. Horner commented: "Having a young daughter, I can really relate with the divide in language between generations. I think it's great that O2 and the NSPCC are doing something to address it in a fun, engaging way that appeals to both children and adults. It actually became quite competitive between Bluebell and I, and it was a great way to spend time with her whilst learning from each other. She was very happy that she beat me; we will have to have a rematch."
The creative agency behind the project was VCCP, which came up with the concept and developed the Alexa skill in-house.
The survey also revealed some of the most commonly used acronyms across the two generations, including "LOL", which assumed different meanings because many parents thought it meant "lots of love" instead of "laugh out loud". "BRB" came in second, with 22% of adults using it, compared with 30% of children.
The top five emojis for both generations were: smiling face; crying with laughter; heart; thumb up; and winking face.
Laura Randall, the NSPCC's associate head of child online safety, said: "It's great to be able to continue our mission with O2 to bring children and parents together online through the new 'Parents v Kids' quiz. As the internet has taken a more and more prominent role in young people's lives, it is vital that they feel they can communicate freely with their parents about what they are doing – something this game will help facilitate."
O2's chief marketing officer, Nina Bibby, said: "Our findings have highlighted the language divide between children and parents, and the challenges that this can create in today's constantly evolving digital world. We understand the importance of helping families explore the online world together."

The O2 NSPCC Hub contains free online resources, including a Net Aware app that explains the social networks, apps or games that children use most frequently.
A version of this article was first published by PRWeek.