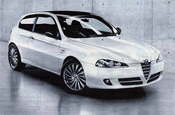 The ad, by Swarm, featured a photograph of an Alfa 147 with the text: "£13,950 Now you know why everyone's stylish in Italy."

A complaint was made that the car pictured did not correspond to the text.

Alfa Romeo protested the ad was not misleading, stating the car featured was listed as a "selected model". They said the style of pricing is common in car ads.

But the Advertising Standards Authority said: "We noted Alfa Romeo were willing to add the word 'from' to the headline price.

"We considered that addition would be an improvement but would not go far enough. We concluded that the ad was likely to mislead."

The ad has been stopped and Alfa Romeo were advised to use the word 'from' with headline prices which must corresponded to featured cars.