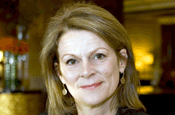 JWT is already interviewing for a replacement, and sources say the new chief executive's role could run across JWT and RMG Connect, the direct marketing agency that it took full ownership of last month (Campaign, 14 August).

The network is understood to be considering a full global merger of the two businesses.

Such a merger could involve JWT being rebranded, with one name in the frame understood to be JWTi.

Burns will become the global client services director for JWT, working on business including Diageo, Johnson & Johnson, Kimberly-Clark and Nestlé.

Her move to New York has been rumoured for weeks, but the agency has repeatedly denied that she was leaving JWT London.

She is expected to remain in her UK role until the first quarter of 2009, but Burns admitted that she has been looking to return to the US for some time.

Toby Hoare, the JWT executive chairman, said he already has a shortlist of people to interview for the chief executive role.

However, Bob Jeffrey, the worldwide chief executive, denied that a JWT/RMG merger was being considered.

He said: "These rumours are completely untrue. We simply needed to clarify the ownership issue. The businesses will not be merged."

Burns joined JWT in February 2006 from the US, where she had been working on a consultancy basis for two years since quitting as the president of Fallon New York.

She replaced Simon Bolton, who left in December 2005.

Burns was handed the job of turning the agency around following a dismal run of account losses had seen JWT London's billings decline by more than £60 million.

In the past year, the agency has picked up a handful of new-business wins and hired Russell Ramsey.

Hoare said: "The good news is that I now have a much more secure and stable agency than I did three years ago."