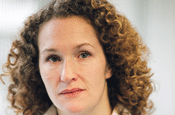 Wright plans to take a six-month sabbatical to decide whether to rejoin the industry on client or agency side.

Previously the chief marketing officer for Egg, she took on the combined role eight months ago following Citigroup's £575 million acquisition of Egg from Prudential in January last year. Industry sources suggest her departure is closely linked to the merger.

A former managing director of Manning Gottlieb OMD, Wright joined Egg in January 2006 from WCRS, where she oversaw the Abbey account.

Helen Corey, the company's chief of staff, will cover Wright's role until a permanent replacement is found.