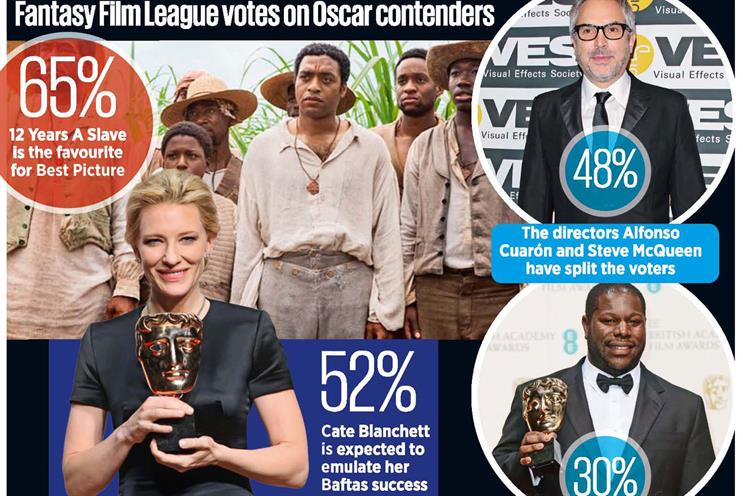 Digital Cinema Media has invited people from across the industry to enter its inaugural Fantasy Film League.
The DCM Fantasy Film League has kicked off with an Oscars prediction theme, with the deadline for entry two days before the Academy Awards on 2 March.
Although the competition has been open for four weeks, the canniest participants delayed their entry until after the Bafta winners were announced. The current favourites selected by the DCM Fantasy Film League members reflect this, with 65 per cent of entrants expecting 12 Years A Slave to follow its Bafta Best Picture triumph with the Oscar too. Gravity is second favourite with 14 per cent of the vote and, wonderful though it is, I think the one person who believes Philomena will win is going to be disappointed.
Unlike in the Best Picture category, where nine films are nominated, the Best Director field is a five-horse race and, if the DCM Fantasy Film League is anything to go by, Alfonso Cuarón is set to pick up the prize for his remarkable work on Gravity. Not one person believes that Alexander Payne has a chance for the terrific Nebraska, and they're probably right.
One of the most open categories is Best Actor, and proving that film fans of media-land have their finger on the pulse, the most popular prediction is Matthew McConaughey, who wasn't even nominated for a Bafta for his role in Dallas Buyers Club. It's still a wide open field, though, with Chiwetel Ejiofor and Leonardo DiCaprio also garnering a good proportion of the vote.
Best Actress is a little more clear-cut – Cate Blanchett is the outstanding favourite to repeat her Bafta success and almost everyone agrees Meryl Streep's 18th nomination will remain just a nomination.
Captain Phillips' Barkhad Abdi was arguably the most popular Bafta winner, but only 14 per cent of people expect him to repeat his win at the Oscars, with Jared Leto the favourite in Best Supporting Actor.
There was a disgruntled murmur on Twitter when Jennifer Lawrence won the Best Supporting Actress Bafta ahead of Lupita Nyong'o, but most people expect her to do the same at the Oscars, although it should be close.
One thing is clear from the results: the race is wide open in both the Oscars and the equally prestigious DCM Fantasy Film League.
Tom Linay is the head of film at Digital Cinema Media