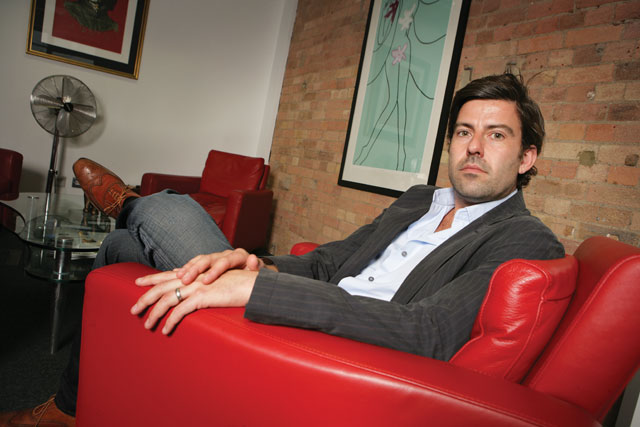 There's an unmistakable wind of change in the air. The latest zephyr has wafted in through Channel 4's revolving doors and deposited the youthful Jonathan Allan into the executive chair in the sales director's office.
His appointment was a surprise to many but, after a period of reflection, perhaps it shouldn't have been. After all, haven't we been here before?
Earlier this year, ITV dispensed with a large swathe of its effective, but longstanding, sales team and replaced them with a younger, fresher variant. At the time, those same people baffled by Allan's recent hiring thought that ITV had made a terrible, but understandable, mistake by appointing a team that did not really comprehend how television was traded.
But now that David Abraham, the Channel 4 chief executive, has gone one better and hired a man who has never sold a spot in his life, ITV's "one-off mistake" appears to have the making of a wider trend. Observers even speculate that these new hirings could be an indication that TV trading is about to move from an attitude of confrontation to one of collaboration.
Allan, the managing director of OMD UK (which just happens to be Channel 4's media agency), is all too aware of the feathers that he has ruffled among the traditional TV clique. After eventually being persuaded to grant Campaign an interview, he is a little defensive at first. When questioned on his TV credentials, he rather testily replies: "I have bought media, and I wouldn't agree that I don't know how to sell airtime."
He's also keen to list the achievements that he thinks qualify him for the role - "head of TV by 26, deputy MD by 30, ran easyJet across Europe". While these career milestones are indeed impressive, they appear to reinforce the notion that outside of OMD, where he has spent the majority of his career (bar a short stint at a regional agency), he has a relatively low profile. Especially among the TV trading community. And, in a break with convention, rather than simply appending his name with the letter "Y", they will soon have to get used to calling him by his universal nickname, "JA".
Indeed, Steve Platt, the trading director at Aegis Media who will soon be one of JA's largest customers, says he doesn't know him. "It's certainly an interesting and different appointment because they haven't gone for a traditional sales person. I'm sure he'll bring in different views," Platt says.
Other TV buyers resorted to interesting analogies to describe the appointment of Allan. A particular favourite among the industry went along the lines of Channel 4 "wanting someone to run a nuclear power station and getting a gardener". But perhaps these are old-fashioned, slightly reactionary views.
After slowly warming up, Allan moves out of defensive mode and shows some passion for his new charge - something that should be welcomed after the painfully long goodbye of his predecessor, Andy Barnes. "Channel 4 remains one of the best brands in the UK - it's about inspiring change and being distinctive. It's our equivalent of Apple," he says.
He's also smart enough to know that his priority is protecting its main revenue stream - spot airtime - rather than becoming preoccupied with the what-ifs and maybes that multiplatform content distribution will soon present. "Channel 4 is moving to a more connected world, but we need to focus on linear ad revenues," he says.
Whether Allan is the man to lead these negotiations remains up for debate, but this question would be rendered redundant should he build a strong trading team around himself.
Platt agrees that sorting out the sales team is a priority: "The challenges are structural - he needs to get his team in place."
Unfortunately, Allan won't be drawn on whether he has a restructure in mind, or is planning to bring in a top-notch negotiator to oversee this, but such a move would seem sensible to ensure that Channel 4 has in place a multi-faceted business model with one eye fixed on the future and another on the deal book.
Abraham says he picked Allan over traditional traders because of the breadth of his experience: "Firstly, he has advised the end-user on spending marketing budgets and, secondly, he has built a digital team, which will be useful in the connected world."
Those who have worked with or alongside Allan testify to him being collaborative and clever.
Stephen Haines, the managing director of Facebook UK, says: "With his passion, enthusiasm and ambition, JA has always been ahead of the curve in his thinking."
And Mark Eaves, the founding partner of Gravity Road and a former colleague of Allan's at Omnicom, points out: "He's the right sort of person for the job as he has a good idea of what agencies want to do with broadcast companies."
As for Allan's vision, his head seems screwed on commercially. "My ultimate goal is to ensure that Channel 4 can continue to be a successful broadcaster that is financially independent. We need to fund innovation and ensure that we are self-reliant by maximising our revenues and setting ourselves up for the future," he says.
If Channel 4 is about being edgy, distinctive and exciting - and there is increasing evidence that this tone is seeping into its on-air product - then Allan may prove to be a welcome breath of fresh air in the changing world of TV sales.
THE LOWDOWN
Age: 37
Family: Married to Alex with one daughter, Amelie
Lives: Speen, Bucks
Last book read: A Week In December by Sebastian Faulks
Favourite TV programme: The Inbetweeners
Hobbies: Snowboarding, surfing, triathlons and classic motorsport